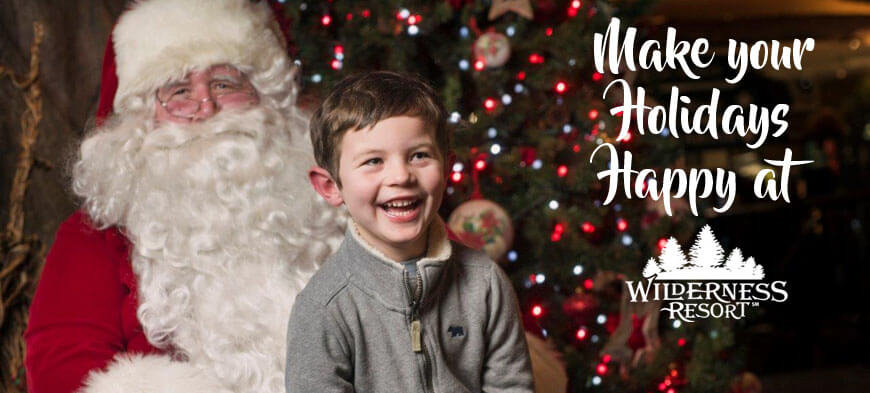 2017 HOLIDAY HAPPENINGS AT THE WILDERNESS
Next to summer, the holidays are our favorite time of the year! Our Resort truly becomes a winter wonderland with the snow on the ground, beautifully decorated Christmas trees in our lobbies and restaurants, and holiday lights strewn with festive garland around. It's a great time of year to visit! 
Santa is coming and he's bringing his Elves too!
We're happy to announce that Santa will be arriving for the holiday season on the weekend of December 2nd & 3rd! He'll be posing for pictures and talking with children in our New Frontier lobby from 9-11 a.m. Then he'll be back December 9th, 10th, 16th,17th and 23rd.
Santa's elves will be at our Resort decorating Christmas cookies with children on Saturdays (December 2nd, 9th, 16th and 23rd) from 1-2 p.m. in our Glacier Canyon WildKids' room.  Various other holiday activities will be held in our WildKids' room, including holiday coloring and ornament decorating.
Finally, Santa's elves will also be making some special deliveries at our resort for select good girls and boys from 6-10 p.m. on December 1st, 2nd, 8th, 9th, 15th, 16th, 22nd and 23rd. The cost for a small gift and treat delivered to your room is just $20 per child. Please call 608-253-9729 ext. 4552 (at least 48 hours in advance) costs and details.
Christmas Buffets
If your family will be at our Resort on Christmas Day we'd like to encourage you to enjoy our delicious Christmas buffets in the Wild Canyon Café.
Our Christmas Breakfast Buffet will be open from 8 a.m. to noon on Christmas. Some of the mouth-watering items featured will include: Eggs Benedict, Crème Brulee French Toast, Biscuits and Gravy, a kids' corner, wonderful pastries, fresh fruit and more. The cost is $14.99 for adults, $7.99 for children 9-12: free for children 8 and under.
Our Christmas Day Buffet will be from 4-9 p.m. and will feature a Chef Carved Tenderloin Station with Chimichurri Sauce, Baked Salmon with Lemon Dill Cream Sauce, Tropical Glazed Chicago Breasts topped with Roasted Pineapple Mango Salsa Baked Honey Orange Glazed Ham, Smoked Brisket with Caramelized Onions, Pumpkin Pie Spice rubbed Pork Loin with Brandied Apples, Broasted Chicken, Swedish Meatballs, and Shrimp Etoufee along with many delicious sides, an endless dessert station and more. The cost is $27.99 for adults, $13.99 for children 4-12 and free for children 3 and under. Menu items subject to change.
Reservations are recommended for both Christmas Day buffets. Please call 800.867.9453 ext. 4241.
Wilderness Gift Cards Make the Perfect Gift!
If you are looking for the perfect gift that is sure to please anyone on your list, consider purchasing a Wilderness gift card. They are available in any denomination, can be redeemed at any Wilderness outlet and they create lasting memories! To purchase one, simply call our reservation staff at 800-867-WILD.