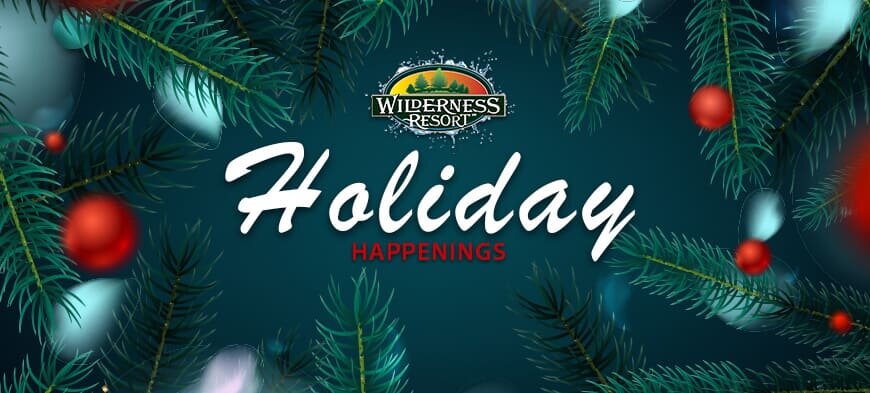 2022 Holiday Happenings
Christmas is one of our favorite times of year. The resort is festively decorated inside and out, and we have all sorts of fun holiday events. Plan now to be part of our celebration!
Coca Cola Caravan
'Tis the holiday season and we're super excited to announce that the Coca-Cola Holiday Caravan will be stopping at our resort in front of Take Flight Theater on Sunday, December 11, from 2-8 pm.  For details visit: https://www.wildernessresort.com/blog/coca-colas-holiday-caravan-is-coming-to-town/ 
Visits with Santa!
Bring your camera (or just pull out your cell phone)! Santa will be posing for pictures and talking with children in the lower lobby area at Take Flight in front of the WildKids' Room from 9-11am on December 3rd, 4th, 10th, 11th, 17th, 18th, and 24th.
WildKids Activities
Our WildKids' team, and one of Santa's elves, will be decorating Christmas cookies with children on Saturday (December 3rd, 10th, 17th, 24th, and 31st) from 1-2 pm in our WildKids' room on the lower level of the Take Flight Building. They will also have holiday themed movies playing continuously and various Christmas themed foam crafts, Christmas bracelet making and Christmas trivia.
Christmas themed Bingo will occur on Fridays and Saturdays at 4:30 pm in Camp Social.
Surprise Holiday Packages
Surprise your littles with a holiday themed package that can be placed in your guest room before you arrive! The package includes an Abominable Yeti plush; Wilderness drawstring bag and water bottle; a blueberry candy cane; snowman fluffs (mini marshmallows), and one each blue rock and white rock suckers. The cost of the package is $35 and you can get more information on it at https://www.wildernessresort.com/resort-packages/elf-package/ 
THE POLAR EXPRESS™ Journey to the North Pole
We're excited to announce the magical POLAR EXPRESS™ Journey to the North Pole is returning for a third season at Take Flight Theater's enormous 65 foot by 45 foot screen.
The film, set to show November 18-January 16, is a state-of-the-art ride experience based on a version of the movie classic about a doubting young boy who takes an extraordinary train ride to the North Pole. He embarks on a journey of self-discovery that shows him that the wonder of life never fades for those who believe. It is an incredible holiday journey that leaves you on the edge of your seat as you twist and turn down the tracks on your way to visit Santa at the North Pole.
Tickets for the show are just $12.99 per resort guest or $17.99 for the public. A double feature, where guests can see our new World Flight film in addition to POLAR EXPRESS™ Journey to the North Pole, costs $20.98 for resort guests and $25.95 for the public.
Afterward, your family can stop by Candy Cabin where they will have memorable holiday treats, including special edition hand-dipped "Golden Ticket" Believe Chocolate Bars. Hidden beneath the wrapper of every Believe Chocolate Bar is a prize. We are giving away over 1 MILLION arcade tickets redeemable at any of our Mega Arcades. Some lucky winners may receive a $100 arcade gift card, and one GRAND PRIZE (1:5000) winner will receive a $250 Wilderness Gift Card. Each Chocolate Bar is a winner!
The Burger Bar will also be serving up their Polar Express-o's made with a shot of locally roasted Espresso with white chocolate and peppermint syrup blended in vanilla ice cream served with whipped cream, candy cane, and snowflake sprinkles. An adult version of the drink can be made with peppermint vodka and a light crème de cacao.
And, Klondike Pizza Kitchen will have an "All Aboard for the Polar Express Pizza Package," which includes: a large 1-topping pizza; an order of breadsticks; a 2-liter bottle of soda and a special Polar Express desert package that includes six candy canes and six cookies.
Camp Social Holiday Fireside Buffet 
Enjoy our ALL YOU CAN EAT buffet at Camp Social on Christmas Day from 4-9 pm. It will include: Chef Carved Honey Glazed Ham; Roast Beef with mushroom and onion au jus; Oven Roasted Herbed Chicken; Mashed Potatoes and Chicken Gravy; Cornbread Stuffing; Baked Acorn Squash with Wild Rice Mushroom Pilaf and Cranberry Balsamic Glaze; Gnocchi simmered in Tomato Basil Sauce; Steamed Haricot Vert with Olive Oil and Maldon Sea Salt; Sweet Buttered Bi-color Corn; Cranberry Sauce; Pistachio Fluff; Classic Garden Salad with choice of dressing; Holiday Apple Salad; and Dinner Rolls.
For littles we will have Chicken Nuggets with Ranch or BBQ sauce; French Fries; Macaroni & Cheese and Jell-o Cubes.
For dessert there will be assorted Cookies and Bars.
It will cost $29.99 for adults 13 and over; $14.99 for kids 4-12 years of age and is FREE for children 3 years of age or under. Reservations are required. Please call 800.867.9453.
New Year's Eve
To learn about our New Year's Eve happenings https://www.wildernessresort.com/blog/new-years-eve-2022/