We are Family Memories Photo Contest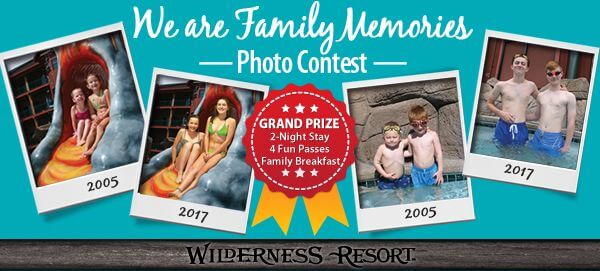 For years, the Wilderness has served as the backdrop for your family's vacation memories. We're proud to have been a part of these precious moments both then and now. Share your vacation photos from over time with the world and you could win a great prize for doing so.
Grand Prize – A 2-night stay, 4 Fun Passes, a free family breakfast at Wild Canyon Cafe and inclusion in upcoming Wilderness Resort social media posts.
5 Honorable Mentions – A $200 promo card as well as inclusion in upcoming Wilderness Resort social media posts.
You must be over the age of 18 to participate in this contest.  For a complete list of rules and regulations click here.  All entries must be received by 11:59 p.m. CST on July 31, 2017.
Photo Contest
"*" indicates required fields
---
Photo Contest Official Rules
Sponsor
This photo contest is sponsored by Wilderness Resort, 511 E. Adams Street, Wisconsin Dells, WI 53965 ("Wilderness Resort" or "we").
Qualification Period
The qualification period for the prize drawings of this sweepstakes begins at 12:01 AM (CST) on [May 1, 2017] and ends at 11:59 PM (CST) on [July 31, 2017].
Eligibility
There is no purchase necessary to enter or to win this photo contest. A purchase made by an eligible participant will not improve the participants' odds to win this photo contest. This photo contest takes is open to legal residents of the United States who are eighteen (18) years or older at the time of entry; however, the sweepstakes is void where prohibited or restricted by law. Employees of Wilderness Resort, its affiliates, licensees, franchisees, advertising and promotional agencies and the immediate family members of each are not eligible.
Entry Procedures
Information on how to enter and descriptions of prizes form part of these official rules ("Official Rules"). To enter this sweepstakes an eligible participant ("you") must submit a photograph online form on https://www.wildernessresort.com/photo-contest. No mechanically reproduced entries accepted. By submitting an entry, you agree to the Official Rules and warrant that your entry complies with the Official Rules, specifically Section 10 and 11 below.
Duties of Participants; Limitation of Liability
By entering, you agree to be bound by these Official Rules and the decisions of Wilderness Resort, which shall be final. All federal, state, and local laws apply. Wilderness Resort and the employees, officers, directors, shareholders, agents, and representatives of Wilderness Resort, affiliates, subsidiaries, and advertising, promotion and legal advisors are not responsible for and shall not be liable for: (i) late, lost, delayed, damaged, misdirected, incomplete, illegible, or unintelligible entries; (ii) telephone, electronic, hardware, or software program, network, Internet, or computer malfunctions, failures, or difficulties; (iii) errors in transmission; (iv) any condition caused by events beyond the control of Wilderness Resort that may cause the photo contest to be disrupted or corrupted; (v) any injuries, losses, or damages of any kind caused by a prize or resulting from acceptance, possession, or use of a prize, or from participation in this contest; or (vi) any printing or typographical errors in any materials associated with this contest.
Violation of Contest Rules
Wilderness Resort reserves the right to disqualify any participant or winners who, in its sole suspicion, tampers with the entry process or violates any of the rules of the Wilderness Resort. Wilderness Resort also reserves the right to disqualify any participant if the entry contains obscene, defamatory, or otherwise objectionable or inappropriate content.
Selection of Winners; Chances of Winning
From August 5-15 the finalists of our photo contest will be posted on our website, WildernessResort.com for public voting. This photo contest is limited to [one (1)] grandprize winner and [five (5)] honorable mention winners.
Description of Prizes
The [one (1)] photo contest submission that receives the most votes will receive a 2-night stay, 4 Fun Passes, a free family breakfast at Wild Canyon Café and inclusion in upcoming Wilderness resort social media posts. The next [Five (5)] top vote getters will be named honorable mention winners and will receive a $200 promo card as well as inclusion in an upcoming Wilderness social media posts.
Notifications of Winners; Substitution of Prizes
Our grand prize which will be announced on Facebook on August 16 and notified via email. The Five honorable mentions will be announced on Facebook one per day from August 17- 21 as well as notified via email. Winners may not under any circumstance substitute or transfer prizes. Prizes are not redeemable for cash. All taxes on a prize are winners' responsibility. Winners are not subject to any shipping or handling fees or costs to collect their prize. Limit: one (1) prize per person and one (1) prize per household.
Permissions & User Generated Content License; Releases
Except where prohibited by law, entry constitutes permission and consent to use your name, hometown and likeness for online posting, and/or any advertising and publicity without additional compensation. You may also be required to sign and return a release of liability, declaration of eligibility and, where lawful, a publicity consent agreement, as conditions of receiving a prize. Failure to comply with the aforementioned conditions shall be grounds for forfeiture of a prize.
When you enter this contest, by submitting a photograph at https://www.wildernessresort.com/photo-contest, you will still own the rights to the User Generated Content, but you are granting Wilderness Resort the right to use your User Generated Content. You grant Wilderness Resort a worldwide, royalty-free, perpetual, irrevocable, non-exclusive right and fully sub-licensable license to use, view, copy, adapt, modify, distribute, license, transfer, publicly display, publicly perform, transmit, distribute, reformat, broadcast, access and otherwise exploit your User Generated Content. This also means you grant Wilderness Resort the right to use your User Generated Content in any way, including in promotions and advertisements, regardless of whether the submission is one of the winning photographs.
If the photograph contains any material or elements that are not owned by you and/or which are subject to the rights of third parties, and/or if any persons appear in the photograph, you are responsible for obtaining, prior to the submission of the photograph, any and all releases and consents necessary to permit the exhibition and use of the photograph in the manner set forth in these Official Rules without compensation. If any person appearing in any photograph is under the age of majority in their state/province/territory of residence the signature of a parent or legal guardian in required on each release.
Upon Wilderness Resort's request, you must be prepared to provide (within seven (7) calendar days of receipt of Wilderness Resort's request) a signed release from all persons who appear in the photograph submitted authorizing Wilderness Resort and its licensees to reproduce, distribute, display and create derivative works of the entry in connection with Wilderness Resort and promotion of our photo contest.
Warranty; Indemnification
By entering this photo contest, you represent, acknowledge and warrant that the submitted photograph is an original work created solely by you, that the photograph does not infringe on the copyrights, trademarks, moral rights, rights of privacy/publicity or intellectual property rights of any person or entity, and that no other party has any right, title, claim or interest in the photograph.
All sweepstakes participants agree to release and hold Wilderness Resort, its employees, officers, directors, shareholders, agents, representatives, parent companies, affiliates, subsidiaries, advertising, promotion and fulfillment agencies, and legal advisors, harmless from any and all losses, damages, rights, claims and actions of any kind in connection with the contest, including without limitation, personal injury, death and property damage, and claims based on publicity rights, defamation or invasion of privacy. Participants understand that they are providing their personal information to Wilderness Resort.
Choice of Law
All issues and questions concerning the construction, validity, interpretation and enforceability of these official rules, or the rights and obligations of participants and Wilderness Resort in connection with this photo contest, will be governed by, and construed in accordance with, the substantive laws of the state of Wisconsin.
Inquiries or Questions
Any inquiries or questions regarding this photo contest, including any request for the names of the winners, may be sent by email to [email protected] or by regular mail to Wilderness Resort at the address set forth above.