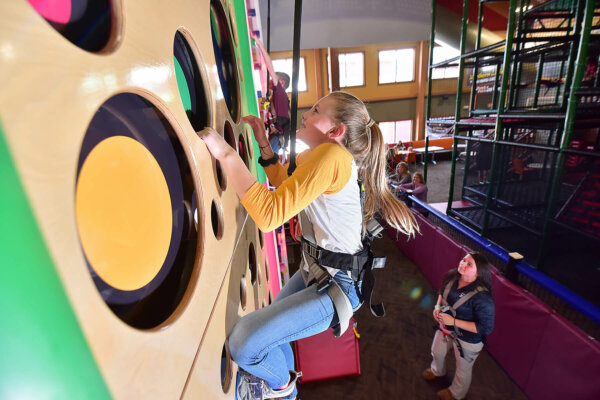 Clip 'n Climb Challenge Walls
Located inside Dodge 'Em City in the Wild West region of the hotel by the Timberland Playhouse, there are three unique climbing walls, each 2 1/2 stories tall! The Circuit Breaker has a tech feel with lights featured throughout connection lines and handholds. Participants may choose the round flashing holds, or solid square holds to reach the top. The Speed Climb is intended for the naturally competitive and encourages climbers to race to the top as fast as possible. The LED lights in the corners and timer help create a fast-paced, high-energy experience for participants. The Big Cheese offers a fast challenge, where participants must reach the top before the countdown clock runs out. The adjustable clock and optical sensors task participants to gain points by "capturing" the sensors on the interchange symbols.
---
Weight Limit 300 lbs.
Minimum weight 22 lbs.
$6 each or 3 climbs for $15 (plus tax).
Cell phones are NOT permitted on the attraction.
Must safely fit in the harness
Follow all operator instructions, posted rules signs and stickers.
Pockets must be empty.
Remove all jewelry, eyeglasses should be secure.
Long hair must be tied back.
No gum, food or drinks allowed on the attraction.
No running jumping, or horseplay.
Do NOT climb until you are clipped into the Auto Belay.
Indoor Attractions Information & Pricing
This attraction is included on our Fun Pass. Click HERE for details.
---
Please refer to our daily Wilderness Express HERE for today's hours.