What's New at The Wilderness?
We're super excited to tell you about all the changes that have taken place or are coming soon.
---
5 Bedroom Treehouse CabinS
COMING THIS FALL! A total of eight 5 Bedroom Treehouse Cabins will be built, each totaling 3,910 square-feet (Our largest cabins yet).
These new cabins will have a more 'mountain modern' architectural design and will features five bedrooms PLUS bonus accommodations in the treehouse room! Each unit will also include a full kitchen with a large breakfast bar, living room on the main level, a rec room with patio access on the lower level, fireplaces, a large deck with outdoor seating and, of course, a gas grill. These new cabins will certainly have plenty of room for entertaining! Booking for these units will be available soon.
In addition, if you're looking to get some putting and chipping practice in before hitting the course, you'll be happy to learn we're adding a 5,300 square-foot putting green next to these cabins! Using state-of-the-art synthetic turf, this putting green simulates the look, feel, and performance of real bent grass greens. Use of the putting green is included exclusively for our 5 bedroom Treehouse guests.
---
WILD WEST WATERPARK
NOW RE-OPENED! The Wild West Waterpark underwent a major renovation in May 2022 and this past November our renovation was officially completed we couldn't be more excited! Renovations include Warped Wagons, a new two-lane dueling tube ride, and Twisted Trails a brand new two-lane dueling mat racer. These four new slides feature eye-popping translucent slide effects as well as multiple rally points where riders will be able to see their competition as they dash down the slides. Ransack Ridge children's play and spray feature is all new and better than ever. Popular rides like The Black Hole extreme tube ride and Fantastic Voyage family raft ride have remained. Also new is YeeHaw's Watering Hole swim-up bar (which has replaced our bumper boats) and Wild West-themed cabana!

---
BEAR PAW FUNNEL CAKES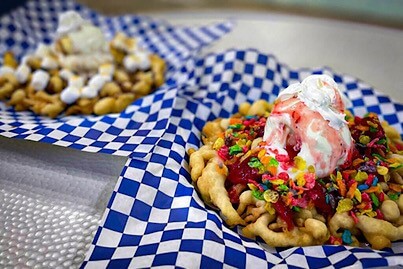 NOW OPEN! Who says funnel cakes are only fair food? We're determined to make this delicious treat a year-round phenom! Located in our newly renovated Wild West Waterpark, our new Bear Paw Funnel Cakes will serve up fresh and classic funnel cakes topped with powdered sugar or notch it up a bit with some of our gourmet creations like the Camp Social S'mores, Saddle Bum Strawberry Cheesecake, Salted Caramel Caboodle, Blue Skies Out West, or Rocky Mountain Rainbow. All gourmet creations are served with a scoop of ice cream and whipped cream!
---
SWIMM'N CHICK'N
NOW OPEN! Swimm'n Chick'n Chicken Eatery & Sports Bar, has replaced The Thirsty Bufflo, This completely renovationed restaurant overlooks the Wild West Waterpark and serves up some the the best chicken tenders. Swimm'n Chick'n is a casual restaurant and sports bar with an optimized menu centered around our star ingredient, a hand-crafted gourmet chicken tender. You'll also find selections from chicken salads to chicken sandwiches, tender baskets (of course) and chicken wraps. The Swimm'n Chick'n offers a variety of mouth-watering sauces and dry rubs to pair with your chicken choices, as well as all-American favorite sides such as warm biscuits with honey butter; coleslaw; and the soon to be guest favorite, our Rooster Fries: Crispy French fries smothered in white queso topped with our crispy chicken tenders, crumbled bacon and fresh jalapeños.  A perfect place to grab a bite and watch the game or just take a break from all the waterpark action at Wild West.  The Swimm'n Chick'n is sure to be a crowd favorite!
---
ROOM RENOVATIONS

COMPLETED! In December of 2022, we finished room, hallway and common area renovations at our main WIldernesss Hotel. All rooms received new paint, carpet, flooring, countertops, furniture, artwork, televisions and, of course, a new and refreshing look. In addition, our hallways and common areas were also been completely renovated.
---
PARTY ROOMS

NOW AVAILABLE TO RENT! While at the Wilderness, are you looking for the great place to hold a small gathering or perhaps to host a birthday? Our Party Rooms are perfect! Located just off the New Frontier Lobby (close to our Wilderwoods Indoor Go-Karts) we have 3 party rooms available. Each party room can be booked separately or booked as 1 large room. Each individual party room can hold up to 20 people! All-day or half-day (morning or evening) rentals available.
---
WORLD FLIGHT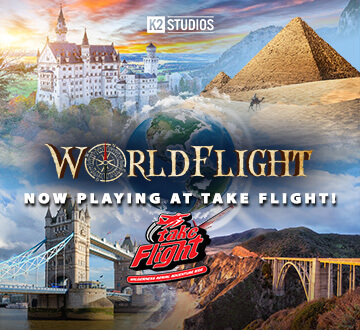 NOW PLAYING AT TAKE FLIGHT! This amazing adventure flight takes people on a journey over and around the world flying over some of the most noteworthy locations. It will include the London Eye and Tower Bridge; the Sydney Harbor in Australia, the Parthenon and Colosseum in Rome, Reykjavik in Iceland, the Matterhorn in the Alps and Big Sur on the California coastline.
Sensory enhancements like wind, motion seats, and scents complete this  immersive fly-ride experience.
More Information / Buy Tickets
---
MISSION: MARS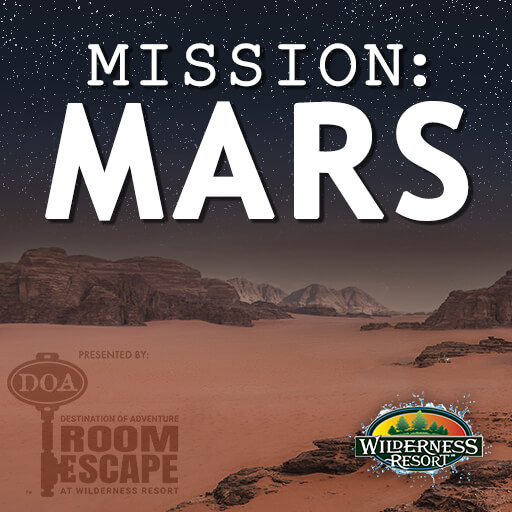 NOW OPEN at Wilderness on the Lake. MISSION: MARS is the newest escape room by D.O.A.  Participants, on a journey to Mars, will have to figure out how to recover the 2004 NASA Rover Opportunity's memory box and repair the rover (which has gone silent since 2018). Participants will have just 30 minutes to complete the challenge before a solar storm arrives.The new room escape is geared toward all adventure seekers ages 5 to 99. It has replaced the Circus room.
---