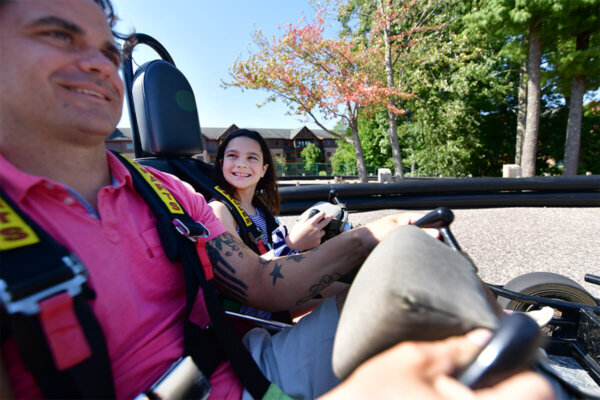 Lost World
Go-Karts & Kiddy Karts
Open Memorial Day weekend through Labor Day weekend.
Race your family! Race your friends!
Get ready for some serious kart-racing fun on our Lost World Go-Karts! Located at Glacier Canyon Lodge next to our Lost World Waterpark, find out who is the fastest and most skilled driver going around the winding turning track. We also have a Kiddy Kart track geared for the younger drivers who want to test out their skills on the course as well!
---
Double Karts:
Must be at least 60" tall & 18 years old to drive with a passenger
Must be at least 36" tall and 4 years old to ride
Double Kart ride:$9.00
Single Karts:
Must be at least 56" tall and at least 10 years old to drive
Single Cart ride: $9.00
Kiddy Karts:
Our Kiddy Kart track is separate from the Go-Kart track making it perfect for beginning drivers that are 4-9 years old.
Kiddy Kart ride: $9.00
Outdoor Attractions Information & Pricing
This attraction is included on our Fun Pass. Click HERE for details.
---
Please refer to our daily Wilderness Express HERE for today's hours.