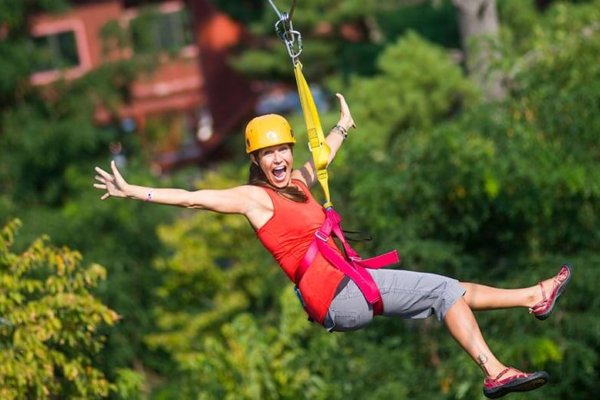 Wilderness Canyon
Zip Line
Soar through the tree tops over Lost Canyon on a tour that spans 6 towers! Watch the canyon pass below your feet as you take the plunge over 60 feet in the air. Zip lining is a great activity for corporate groups, team building, families, parties, reunions and dates! The Wilderness Canyon Zip Line Tour has tours available all year long! We ask that during the colder months, please reserve your tour in advance. If you have any questions or would like to book your tour online today!
---
Pricing
Resort Guests: $45 plus tax
Public: $55 plus tax
All participants must sign a waiver before their tour.
Rules, Restrictions and Regulations
In accordance with the CDC guidelines. Guests will be sent one at a time of each platform and at each platform we will encourage to stay 6 feet apart when applicable.
Groups will be no more than 8 people plus 2 guides on a tour.
Guests will be encouraged to pay online or with a credit card for all sales transactions
Guests who feel ill or are having any signs of sickness will receive a full refund if cancelling a tour due to being sick.
All common used surfaces will be wipes down regularly throughout the day.
All guests are required to wash and/or sanitize hands before using equipment and at the completion of the tour
Guests will be asked to fill out waivers online prior to arrival or on their cell phone at the time of arrival of their tour
All Gear will be disinfected between each use.
Guides are required to wear masks and full-fingered gloves throughout the tour.
For Participants, masks are not required but can be worn if you choose.
We will be educating guests about expectations regarding COVID-19 prior to zipping.
Participants must weigh at least 70 pounds and no more than 270 pounds.
Participants should be in good health and free of neck or back injuries.
Participants must wear closed-toe and closed heel shoes.  Flip flops, crocs or slides may not be worn.
Participants under 17 must have signed permission from parent or legal guardian, and the parent or legal guardian must be present at beginning and end of tour.
Forms are available upon arrival at the Zip Line Tour Registration Office.
Designed For Excitement!
Tour consists of 6 platform towers & 5 "zips"
Maximum tower height - 60 feet
Maximum speed - 25 MPH
Canyon floor - 55 feet down
Longest run - 907 feet
Built For Safety
We train and certify all of our zip line guides.
No hand braking. Our system slows and brakes automatically as you glide into the platforms.
Guests remain connected to one of two safety connections at all times throughout the course.
This is an engineered course professionally designed for safety.
Cancellation Policy
Cancellation of tour within 24 hours of reservation will result in full charge of entire tour/group reservation.
Outdoor Attractions Information & Pricing
---
Please refer to our daily Wilderness Express HERE for today's hours.