Thanksgiving Dinner Options
Family Style To-Go Camp Social The Burger Bar Survivor's Bar & Grill Field's at the Wilderness
Conference Center Staff-Served Grand Buffet
 Service from Noon – 7pm. Reservations Required. Call 800.867.9453
Featured Entrees:
Chef Carved Roast Turkey, Chef Carved Prime Rib, Cherrywood Smoked Ham, Maple and whole-grain mustard glazed salmon, Butternut squash ravioli with a browned butter sauce.
Traditional Accompaniments:
Port cranberry sauce with orange zest, Traditional sage dressing, Mashed Yukon gold potatoes & turkey gravy, Holiday green bean casserole, Candied sweet potatoes topped with toasted marshmallows, Super sweet corn niblets, Roasted Brussel sprouts drizzled with a balsamic glaze, Salad bar including mixed greens, toppings and dressings, rotini pasta salad, a selection of Wisconsin cheeses, fresh seasonal fruit, assorted dinner rolls, spiced pumpkin bisque and chicken and wild rice soup.
Kids Korner:
Macaroni and cheese, Golden fried chicken nuggets, Mini corndogs, Jello cubes, Crispy tater tots.
Decadent Dessert Display:
Thanksgiving Pies – Old fashioned apple, pumpkin and southern pecan, Fresh baked assorted cookies, Assorted cheese cakes, Chocolate cake with chocolate buttercream icing, Carrot cake with raisins, pineapple and walnuts iced with cream cheese frosting.
Adults – $32.99  |  Kids (4-12 years) – $13.99

Conference Center Family Style To-Go Meal
 Service from Noon – 7pm.  Reservations Required. Call 800.867.9453
To-Go Meal Includes:
Oven roasted turkey, cherrywood smoked ham, traditional sage dressing, port cranberry sauce with orange zest, mashed Yukon gold potatoes & turkey gravy, holiday green bean casserole, candied sweet potatoes topped with toasted marshmallows, super sweet corn niblets, dinner rolls, choice of pumpkin pie, apple pie or chocolate cake. 
Dinner for 2 – $40 | Dinner for 4 – $80. Camp Social Turkey Feed
Dinner will be from 4pm to 9pm. Reservations Required. Call800.867.9453
Staff-Served Buffet Includes:
Roast turkey, mashed potatoes & gravy, cranberry sauce, dinner rolls & butter, sage stuffing, sweet corn niblets, mac & cheese, glazed sweet potatoes w/ marshmallows, green bean casserole, chicken nuggets & tater tots.
Pumpkin, Apple and Pecan Pies, Chocolate Brownies and Chocolate Chip Cookies.  Also featuring a Hot Chocolate and Cider station!   
$24.99 adults and $11.99 kids 4‐12 years of age. Children 3 and under are free.

Burger Bar Football & Drink Specials
Service from 11am – 10pm. No reservations required.
Special Menu Items Include:
Pulled turkey sandwich served with coleslaw & chips
Buffalo chicken dip served with tortilla chips, carrots & celery
Linguica sausage topped with peppers & onions  
We will be playing all of the football games on our HUGE projection screen TV!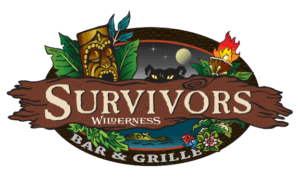 Survivor's Thanksgiving Specials
Service from 11am – 10pm. No reservations required.
Special Menu Items Include:
 • Burger of the week – 1/4 Turkey burger topped with Havarti, stuffing, cranberry-apple chutney & gravy on a brioche roll.
 • J.J. Watt Belly Buster – Toasted hoagie filled with grilled andouille sausage, smoked brisket, Jack cheese & black bean-corn salsa.
 • Pittsburgher Pastrami – topped with with Provolone, french fries, oil & vinegar coleslaw & tomato smashed on thick white bread. 


Field's at the Wilderness
Open from Noon‐7pm. Reservations Required. Call 608.253.1400
Fields at the Wilderness will be serving a traditional Thanksgiving menu in addition to their regular menu.