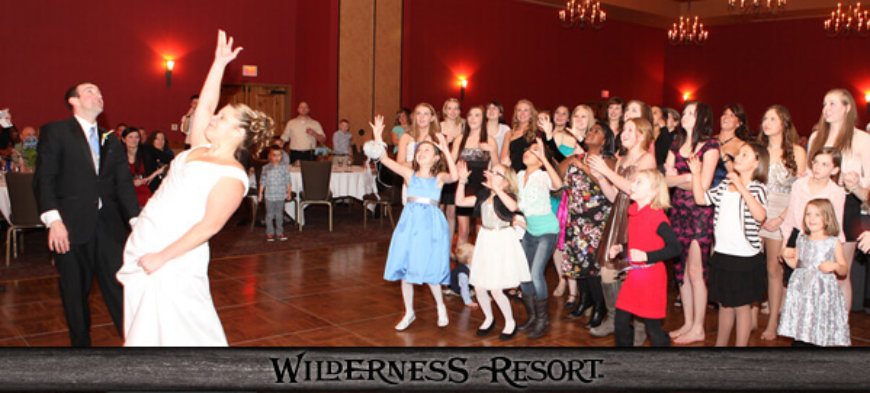 A GROOM'S PERSPECTIVE: WHY WE CHOSE THE WILDERNESS FOR OUR WEDDING
By Guest Blogger Joe of Sun Prairie
When we first started planning our wedding, we really wanted to have a destination wedding. However, we realized quickly that doing so would limit the amount of friends and family that could join us, and it was really important to my future wife and I to have everyone there. We also have five children between us, and it was important to have them all involved.
After looking at a lot of local venues, and then visiting the Wilderness Resort's Glacier Canyon Conference Center, we decided we could actually have a great winter destination wedding right here in Wisconsin!
We worked closely with Jennifer, the Wilderness' wedding planner, to make our day memorable, and she was excellent. We had over 300 guests and a lot of special requests, and Jennifer was on top of things every step of the way.
On the day of our wedding, we got a little nervous because it started snowing early in the morning and never stopped until after the wedding. However, the Wilderness staff kept the parking lots and sidewalks cleared of snow and safe for our guests. And, much to our surprise, the snow made for a stunning backdrop in our wedding pictures. The groomsman and I even braved the cold and snow and did a lot of our pictures on the patio behind the conference center.
The Wilderness had so much to offer us for our destination wedding:  a beautiful venue, excellent staff, and we loved that we were able to spend most of the day prior to our wedding and the day after our wedding relaxing at their great waterparks with our kids. It was just as much fun (if not more) as being on a beach somewhere and we didn't have to burden our friends and family with the cost of airfare. We still hear regularly from our guests that our wedding was the best wedding they've ever been to. We're glad we hosted our big day at the Wilderness Resort and that everyone had as much fun as we did.