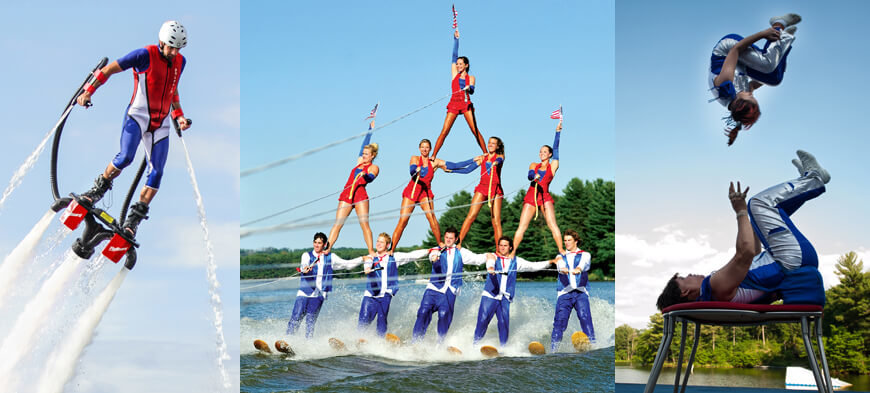 ALL WILDERNESS GUESTS TO RECEIVE A COMPLIMENTARY TICKET TO THE LEGENDARY TOMMY BARTLETT SHOW
We love our customers! And as a special thank you, this year ALL registered guests staying at the Wilderness from Memorial Day weekend through Labor Day weekend will receive a complimentary ticket at the time of check-in to the Tommy Bartlett Show. All guests will also receive in their check-in packets a coupon that they can redeem for a 20 percent discount off of regular adult ticket prices for the Original Ducks, Boats or Jet Boat Tours.
The Tommy Bartlett Show really is "must-see" when visiting Wisconsin Dells. The 90-minute iconic water and stage show features some of the best water skiers in the country. You'll be able to see them perform thrilling jumps and flips, speed across the water barefoot and create a signature three-tier human pyramid.
This year, the show's producers are excited to have extreme jet skier, Evan Krefski returning to perform back flips, barrel rolls and 540-degree spins with his jet ski. There will also be a FlyBoard performer  in addition to tricks with wakeboards and the Sky Ski, a special hydrofoil chair ski.
Other shore stage performers will include: the Nerveless Nocks performing breathtaking stunt s on both the inside and outside of their Wheel of Destiny; 17 year-old Carson Howell riding a unicycle on stage and his dad, T.J. Howell, who dazzles audiences with his world-class juggling skills and upbeat humor; and the Fausto Scorpions, a fast-paced "risely" foot juggling routine.
New to the Bartlett stage this summer, is an acrobatic artist named Ruslan Khusinov showing off his extraordinary hand-balancing act upon a rotating platform. With skill and precision, Ruslan will perform controlled moves, starting with a handstand on balancing sticks, then releasing his grasp to pose on just one arm as he contorts his body with amazing strength.
Nighttime show goers will also be treated to the launch of the lighted hang-glider kite towed by a speedboat and a grand finale featuring a colorful Entrancing Waters fountain display set to a patriotic musical score.
The Tommy Bartlett Show runs rain or shine, May 25 – September 2, 2018 at 4:30 and 8:30 p.m. (Please note: on May 25 there is only an 8:30 p.m. show). For more information visit www.tommybartlett.com or check out the 2018 brochure here.