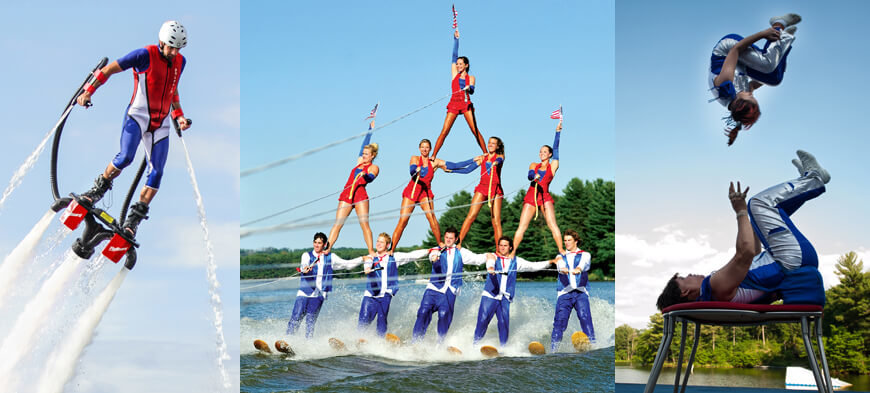 ALL WILDERNESS GUESTS TO RECEIVE A COMPLIMENTARY TICKET TO THE LEGENDARY TOMMY BARTLETT SHOW
We love our customers! And as a special thank you, this year ALL registered guests staying at the Wilderness from Memorial Day weekend through Labor Day weekend will receive a complimentary ticket at the time of check-in to the Tommy Bartlett Show. All guests will also receive in their check-in packets a coupon that they can redeem for a 20 percent discount off of regular adult ticket prices for the Original Ducks, Dells Boat Tours or Jet Boat Tours.
The Tommy Bartlett Show really is "must-see" when visiting Wisconsin Dells. The 90-minute iconic water and stage show features some of the best water skiers in the country. You'll be able to see them perform thrilling jumps and flips, speed across the water barefoot and create a signature three-tier human pyramid. The unique FlyBoard turns heads as its rider hovers over the water and shoots into the air to perform flips. There will also be tricks with wakeboards and the Sky Ski, a special hydrofoil chair ski.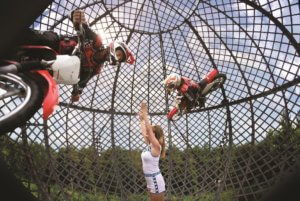 New this year, the show's producers are excited to have the Nerveless Nocks rev things up in the Globe of Thunder. The daring motorcycle stunt team races around and upside down inside the close quarters of the 18-foot-tall steel globe.
Other performers on shore include: 17 year-old Carson Howell riding a unicycle on stage and his dad, T.J. Howell, who dazzles audiences with his world-class juggling skills and upbeat humor; and the Fausto Scorpions, a fast-paced "risely" foot juggling routine which pits dad against daughters in this family-friendly comedic acrobatic act.
Nighttime show goers will also be treated to the launch of the lighted hang-glider kite (weather permitting). Towed by a speedboat, the kite launches from the stage to a height of 700 feet. The pilot releases the line and glides back down to the very same spot. The evening is capped off with a grand finale featuring a colorful Entrancing Waters fountain display set to a patriotic musical score.
The Tommy Bartlett Show runs rain or shine, May 24 – September 1, 2019 at 4:30 and 8:30 p.m. (Please note: on May 24 there is only an 8:30 p.m. show). For more information visit www.tommybartlett.com.