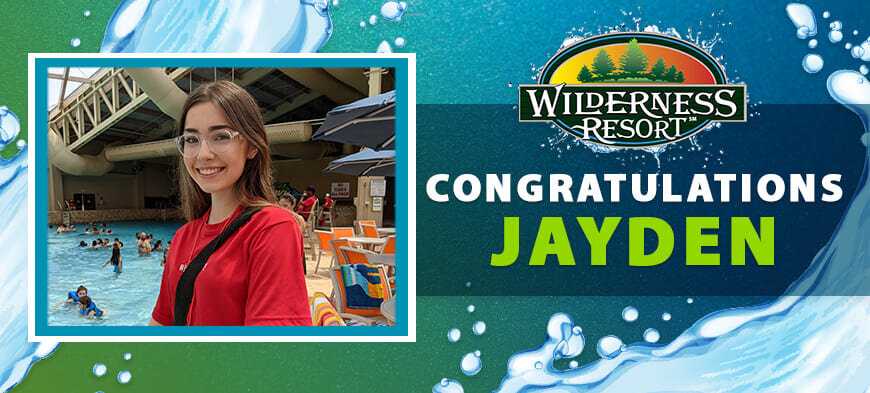 Wilderness Lifeguard Recognized by American Red Cross
May is Water Safety Month and this year one of the Wilderness Resort's lifeguards was recognized for her lifesaving actions by the American Red Cross with the Lifesaving Award for Professional Responders.
Jayden Taylor's shift as a lifeguard in the WaterDome started as any other on August 27, 2020. Until she noticed a little girl struggling in deep end of the wave pool. She blew her whistle at her and told her to pull away from the pool's wall, and that's when the little girl started showing distress by flailing her arms. Jayden recognized this as a problem and jumped into action. She blew her whistle one long time to alert the other lifeguards and jumped into the water.
When Jayden got the little girl in distress, she took hold of her with her rescue tube, and told her she was going to be ok. She started swimming with her back to the shallow area.  It was there that Jayden found out the little girl's name was Madelyn and she was ok. Jayden and her supervisor wrote an incident report and Madelyn's grateful parents signed it.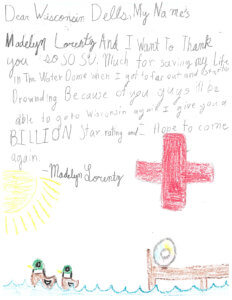 The rescue meant so much to Madelyn that after she got home, she wrote a thank you to Jayden for saving her life and sent to the resort. Needless to say, Jayden was very touched when she received it.
Darin our Aquatics director thought it was such a nice note, that he shared it with the American Red Cross who conducts the resort's lifeguard training. That's when the Red Cross decided to also recognize Jayden for her life saving efforts.
"It super nice to be getting recognized by the Red Cross for what I did," said Jayden. "As a lifeguard you don't expect anything in response to making a save but it sure is nice to know you are appreciated."
Jayden, who is 16, has been a lifeguard at the Wilderness for almost a year. She has worked hard to earn the qualifications to be a wave guard (the highest a lifeguard can get at the Wilderness). She is a sophomore in advanced classes at Mauston High School, and hopes to be able to graduate early and enlist while going to college for physiology/social work. She says she really enjoys working as a lifeguard, and the best part of her job is seeing people have fun and excited to be on vacation.
"The memory of rescuing Madelyn will always stay with me," says Jayden. "I am very grateful I happened to be at the right place at the right time and saved this sweet little girl. Many of my coworkers have also been able to save other people, but they are not being recognized by this award. So I also feel I need to point out that it is not just me who is deserving of this award. We have a great lifeguard team."
Congratulations Jayden on your award. We are so glad you are part of the Wilderness Aquatics team. A special thanks is also in order to Wisconsin Governor Evers who made an official proclamation declaring May National Water Safety Month.