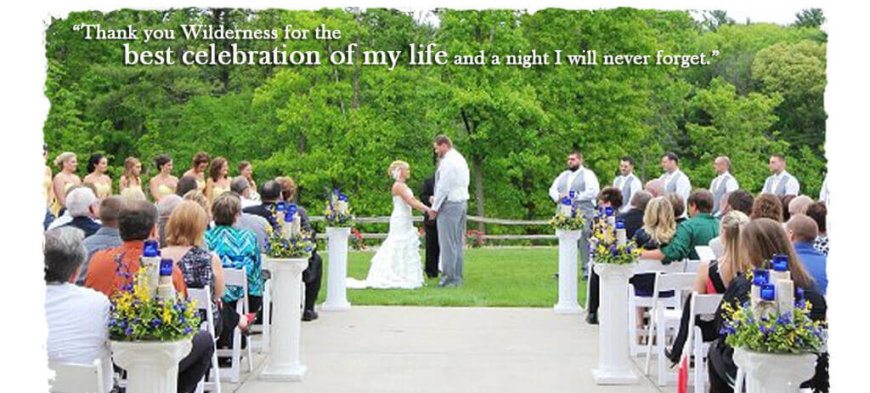 REMINISCING ABOUT OUR SPECIAL WEDDING DAY
By guest blogger: Kim from  Salem, WI
One 
It is one day until the BIG day. Every emotion is running through my body. Out of town guests are arriving, rehearsal dinner is tonight, my best friends are all at my side and it's all becoming so real.
The best part about being in the Wisconsin Dells there is plenty to do to distract myself from all the questions everyone is asking me and last minute decisions.  Golfing at Wild Rock with my soon-to-be husband and maid of honor was the perfect recipe for relaxation.   After golf, I was even more excited to use my gift certificate to the Sundara Spa. It's truly what every bride should experience. You leave with a special glow and feeling of serenity.
Twenty-five 
It is May 25th, a date that will have special meaning for the rest of my life. I'm sitting in the bridal room applying lipstick for the last time before the photographer tells me my soon to be husband is in place before he sees me for the first time. My heart starts to race and I try to think of something funny to hold back the tears. I walk down the hallway to soon see my handsome groom. He turns around to see me and just stares. At that moment I realize nothing matters besides each of us and the sense of love and excitement that we are sharing.
The photos from your wedding are truly the only thing you have to reminisce and recap your most special day. The photographer leads us outside to the ceremony site and takes breathtaking photos with the most gorgeous background. Any color combination a bride picks looks perfect with the nature surrounding the Wilderness reception site.
One hundred sixty
One hundred sixty guests replied they would attend our wedding. For a destination wedding I was pleased with our final count and you realize it doesn't matter how many people are there… it matters who is there.  The guests were wowed by the gorgeous reception room and the rustic feel of the room and centerpieces.  Cocktail hour was perfect for guests to mingle, have a drink and appetizers.  Soon it was time for dinner to begin.  The elegant and traditional plated dinner was appreciated by guests. I've never seen so much food on a plate at a wedding, and the guests recognized this too and complimented their meals.
Eighty
Our DJ got the party started playing our favorite genre, the 80s. The dancing and well known sing-a-long songs were a crowd pleaser.  The formal part of the wedding was finally over and it was time to let loose and enjoy time with our guests.
Twelve
At midnight the night was coming to an end.  I couldn't wait to get into comfortable clothes and something other than heels.  I walked out of the reception hall looking back into the reception and took one last look at truly the best night of my life.  The honeymoon suite had champagne for us to keep the celebration going.
Thank you Wilderness for the best celebration of my life and a night I will never forget.
~  If you would like to write a guest blog about your Wilderness experience, please send us an email at: [email protected] ~