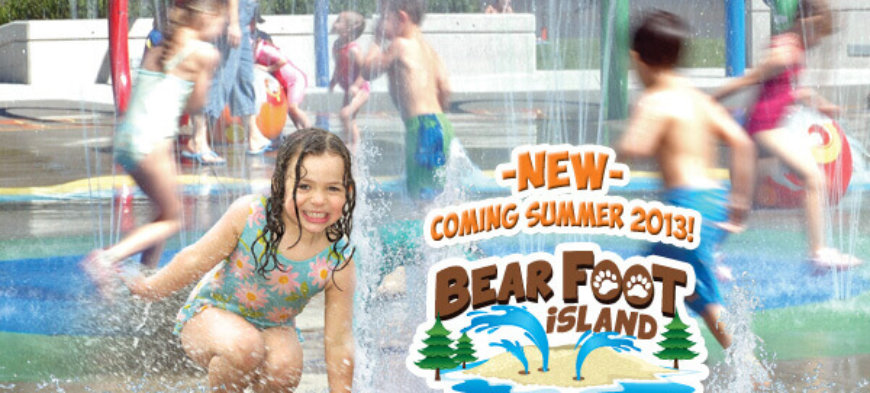 BEAR FOOT ISLAND SPRAYGROUND –
NOW OPEN!
Last year, we catered to dare devils with the addition of the Lunar Loop and Cosmic Drop extreme thrills slides. This summer, however, we're focusing our attention on the "li'l squirts" in your family with a fun new zero-depth sprayground!
The new Bear Foot Island Sprayground will be located in the New Frontier outdoor waterpark. This splashtastic area will  feature woodsy-themed spraying fountains, exploding ground geysers, shooting water jets and other fun water play features such as a giant drenching bull frog loop and a silly spraying water bug. It will also has abundant seating, making it an ideal spot for parents with young children to, relax and enjoy a warm summer day at the Wilderness.
We take pride in the fact that our resort really has something for everyone in your entire family to enjoy! Have you made your reservation for summer yet? Book now for best summer rates! Call 800.867.WILD or book online at www.WildernessResort.com. Explore More…Wilderness.
Update June 2013: Bear Foot Island opened Memorial Day Weekend and it is a hit! The li'l squirts are loving all the splashing fun and the parents are happy to see the non-slip padded surface and all the lounge chairs for relaxing!"