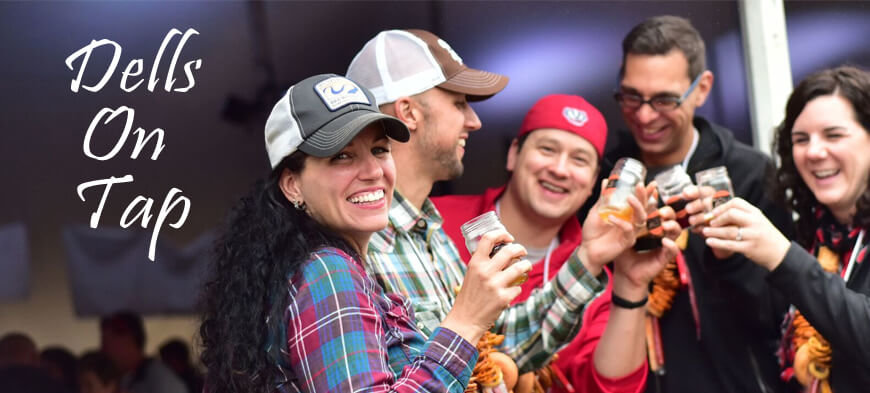 BEER LOVERS' WEEKEND IN OCTOBER
Nothing beats the Dells in fall, especially when there's an entire weekend devoted solely to craft beer.
The Dells Craft Beer Walk is scheduled for Friday, October 12 from 5-9 pm and features a huge sampling of artisan brews at 12 participating bars in downtown Wisconsin Dells.
Tickets are: Advance $20 | Day of Event $30
Register and pick up your tasting glass at the Wisconsin Dells Visitor & Convention Bureau, 701 Superior Street, Wisconsin Dells, anytime between 9 am and 7 pm on Friday, October 12.
Insider tip: Your ticket will get you tasty food and additional tap specials too. Not a bad reason to make it a weekend in Wisconsin Dells!
To purchase an advance ticket visit: https://wisdells.ticketspice.com/craft-beer-walk-2018
Dells on Tap, on Saturday, October 13 will start off with a Dells on Tap 5k Race to the Taps at 9  am and a Bag Toss Tournament at 11 am. Then starting at noon VIP guests will be able to sample some of the best seasonal microbrews the Midwest has to offer from 65 different breweries or brew pubs.
The event, which also includes live entertainment all day, is located on the festival grounds just off of La Crosse St in Downtown Wisconsin Dells. You must be 21 or older to attend AND purchase a ticket to enter the Dells On Tap event.
Tickets:
VIP Admission Advance $65 | Day of Event $80
In addition to general admission, the VIP Admission includes entry into Dells On Tap tent at Noon, commemorative VIP Tasting Glass, a pretzel necklace and light snacks from Noon – 1:00 p.m. Only 500 VIP Admissions are available.
General Admission: Advance $40 | Day of Event $55
General Admission from 1:00 p.m. until 5:00 p.m. Includes a commemorative glass and is required for everyone. No outside glassware is allowed to be brought inside the tent.
TO purchase an advance ticket visit: https://wisdells.ticketspice.com/dells-on-tap-2018