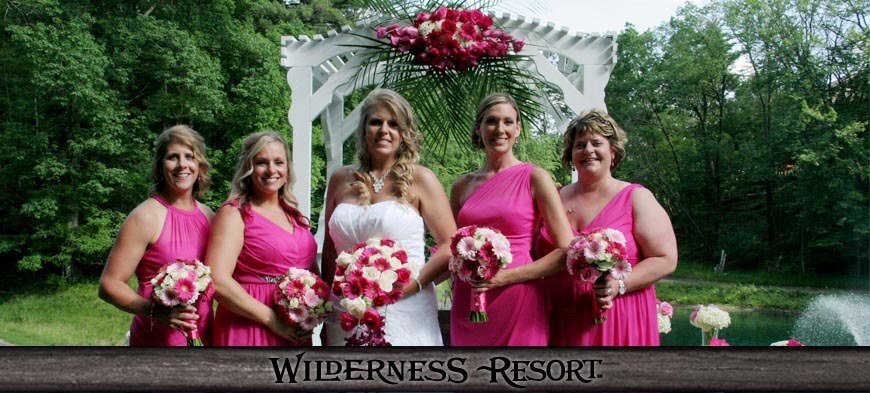 Why We Chose the Wilderness for Our Wedding
By Guest Blogger Kelly Schnorenberg
Our wedding planning began with a lot of questions, specifically what type of wedding did we want? Destination? Small and intimate? Informal, full of family and friends? Destination was ruled out right away. We also decided that we did want a smaller wedding with just enough family and friends to make our day special.  So we set out on our adventure of finding the right venue.  We searched a few places near us (the Milwaukee area) but nothing was popping out at us. We got to thinking…what about Wisconsin Dells?  We both loved going to the Dells as children and in our adulthood, visiting several times a year. So we began our quest in the Dells; we asked questions, set up several meetings with different venues, talked with some of the locals (wherein we found our DJ!) and after our weekend of research, came to the conclusion the Dells would be the perfect spot to start our life together, at a place we both loved. It was somewhat a destination as it was away from home, but yet close enough for our guests to attend.  We also decided that the Wild Rock Clubhouse at Wilderness Resort was the spot where we wanted to say "I Do!"
Our decision to have our wedding at the Wild Rock Clubhouse was based on several factors…first and foremost the wonderful service we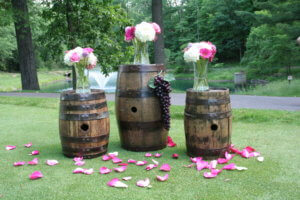 received from Jen, who was our main contact when gathering our information. Jen provided us with answers to all our questions (never making us feel like a burden after countless emails!)  She gave us all the options the Wilderness had to offer, however, knowing what our vision was, suggested Wild Rock. Since we were looking to have a smaller wedding, the 150 guest capacity was perfect. I also liked the fact that it was separate from the hotel and conference center and was basically our own little 'world' for the night. Once we decided on the Wild Rock Clubhouse, Jen handed over the preparation to Erin, who was nothing short of amazing during the rest of our planning process.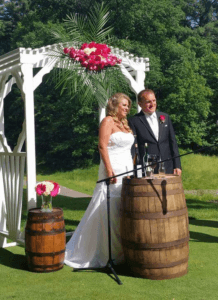 We had about seven months to get everything set for our big day. As any bride would be, I was a little nervous about the short timeframe but Erin eased my nerves by answering all questions I had (and quickly!), meeting with us to go over all the details…including some things I wouldn't have even thought of …and working to make our day everything that we wanted. I had decided to do a wine theme wedding, with a lot of wine décor; Erin had no issues with us bringing in wine barrels right to the ceremony site, which just enhanced an already beautiful setting.
The big day finally arrived….Erin was waiting for us bright and early to help us in any way she could to prepare for the day and our guests. When we arrived for the ceremony, she was on-hand to direct our guests to the ceremony site while also tending to anything we needed; whether it was helping to pin on corsages or assisting me. After the ceremony, Erin even went so far as to bustle my dress…much to the relief of my bridesmaids!  Erin kept everything on schedule…from the ceremony, to the dinner, to the first dance.  Her planning and organization is what helped me completely enjoy the day without having to worry about anything!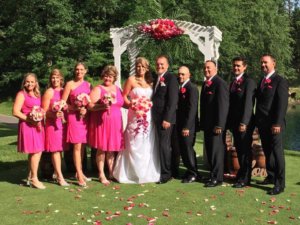 Our guests were very happy with our choice in venue…they raved about the food, the staff, and the overall atmosphere of the day. We, along with some of our guests, were able to enjoy all the amenities of the resort for several days after the wedding.
As a bride you can only hope that you have a perfect day and I can honestly say that our day was. Our expectations were exceeded and our dream wedding came true. A lifetime of memories were made that day and we are so happy we chose the Wild Rock Golf Clubhouse at Wilderness Resort to start our new life!