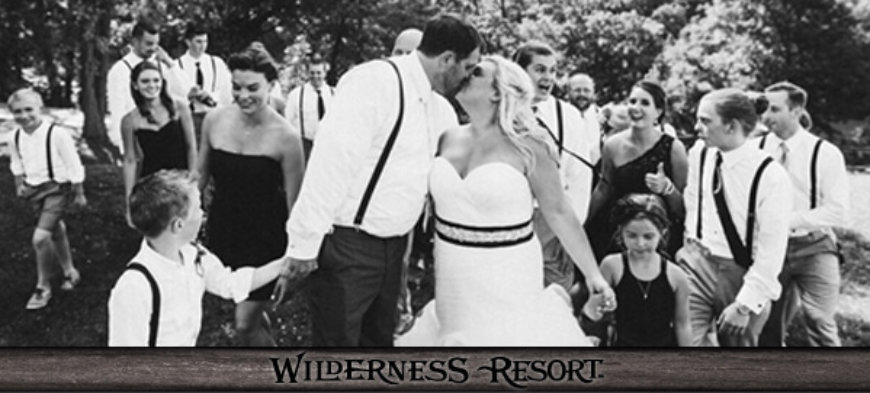 WHY WE CHOSE THE WILDERNESS FOR OUR WEDDING
By: Chelsea, a recent bride at Glacier Canyon Conference Center at the Wilderness
When we began planning our wedding, our first "must-have" was finding a location that was beautiful and could hold a lot of people! Both coming from large families, our goal was to find a location where all age groups would be able to relax, enjoy and make a mini-vacation out of our wedding weekend.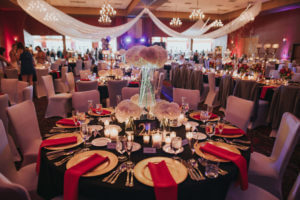 After touring numerous venues in Madison, and being very underwhelmed, we decided to expand our search to the Wisconsin Dells. After browsing potential locations, we booked our tour for Wilderness' Glacier Canyon Conference Center — the online pictures made us begin to fall in love before even stepping foot on location. Upon our arrival, we were greeted by Jennifer, the resort's wedding planner. We immediately felt at ease and knew we were in great hands. After viewing the ballrooms, we decided on The Wilderness Ballroom.  It was a no-brainer! The room and the patio were everything we had envisioned for our dream wedding.
Once the room was booked, planning the wedding really began. Between all our of our meetings with vendors, it felt like we had a million questions. Jennifer was unbelievable through the entire process. Between the countless emails and crazy questions, Jennifer never made us feel like a bother, and was always able to reassure any of our hesitations with her suggestions or referrals to vendors she had worked with in the past.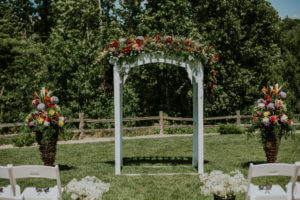 Fast forward to our wedding weekend: With stress running high, Jennifer and the entire conference center staff were so accommodating and
went above and beyond to make sure we had everything we needed. I don't think we even had to ask for one thing. They were 2 steps ahead of us the whole way.
The wedding went off seamlessly! Jennifer was on hand to help coordinate the guests so our ceremony began on time, and was able to direct the wedding party on when to walk. Being that our wedding day ended up as an extremely hot day, the staff set up water stations outside for our guests to help them keep cool during the ceremony. We began our cocktail hour immediate following the ceremony, and the transition went very smoothly.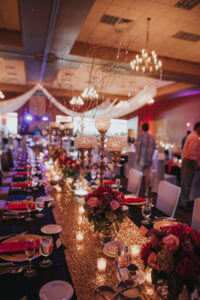 We choose black, gold and pink to be our primary colors. We decided to have 3 different table arrangements — tall vases with gold curly willows and candles, gold candelabras white hydrangeas and more candles and finally arrangements of 3 different vase heights with white hydrangeas and candles. Our captain's table included all three arrangements along with a double runner of gold sequins. To tie the room together, we elected to add up-lighting in pink, purple and orange, making the room absolutely stunning.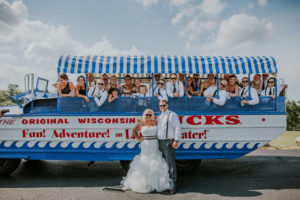 During cocktail hour, thanks to Jennifer's coordination, we took our wedding party on a Wisconsin Dells Ducks tour. It was such a unique and fun thing for our wedding party to do and made for awesome pictures. Arriving back at the reception, Patrick and I were blown away with how beautiful the room was, hundreds of candles were lit throughout the room and the lighting we selected was
beautiful. Dinner was another success — every server was attentive to each and every one of our guests.  The food exceeded our expectations and everyone raved about how good it was (the Grilled Salmon was a major hit)!
Our wedding day was more than either of us could have ever dreamed of. Jennifer and the Wilderness staff went above and beyond to make our dreams come true.  If we had to do it all over again, we wouldn't change a thing!