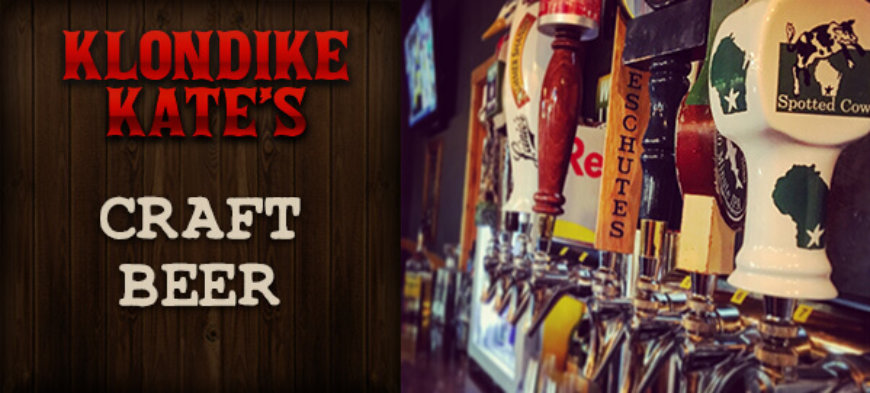 KLONDIKE KAVERN ADDS CRAFT BEERS
A visit to the Wilderness in Wisconsin Dells now means you can sample some local and regional craft beers right on property. Join us at Klondike Kate's near the Klondike Kavern Waterpark for a sampling, choose your favorites and pair them with a pizza from our nearby Klondike Pizza Kitchen.
According to Eric, our food and beverage manager, "Wisconsin's history is synonymous with names like Schlitz, Pabst, Blatz and Miller, so it is only natural for Wisconsinites to have a love of beer. However, in recent years, craft beers, which are brewed by small, independent and traditional breweries have really taken front and center stage with beer connoisseurs.
"Craft brewers are known for being creative. They are constantly coming up with new hops and beer flavors to keep beer lovers coming back for more. And, with apps like "Untapped", which allow you to share socially with your friends the beer you're currently enjoying, as well as where you're enjoying it, beer drinking is more fun than ever!
"I think it's safe to say it has become a hobby of sorts for beer fans to keep track of the brews they've tried, record the ones they liked, and keep a list of which ones they want to try in the future."
Klondike Kate's craft beer selection will be rotating on a regular basis so you will have fresh choices each time you visit the Wilderness.
Klondike Kate's Craft Beer On Draft Now
(With Pizza Pairing)
Spotted Cow – New Glarus Brewery, New Glarus, WI
5.1% ABV  |  18 IBU
This Wisconsin farmhouse ale gets its natural cloudiness by allowing the yeast to remain in the bottle to enhance the fullness of flavors. Pair with the Wisconsin Golden Nugget Pizza.
60 Minute IPA – Dogfish Head Craft Brewery, Milton, DE
6.0% ABV  |  60 IBU
60 Minute IPA is continuously hopped – more than 60 hop additions over a 60-minute boil.  It's brewed with Northwest hops giving it a strong hop flavor with a lot of citrusy hop characters. Pairs well with the Klondike Paradise Pizza.
 Fresh Squeezed IPA – Deschutes Brewery,  Bend, OR
6.4% ABV  |  60 IBU
Pale, Crystal and Munich malts are balanced with a generous dose of Nugget, Citra and Mosaic hops to create this IPA from Deschutes, which results in a strong citrus flavor reminiscent of fresh grapefruit. Pair with the Klondike Midnight Veggie Pizza. 
Wisconsin Amber – Capital Brewery, Middleton, WI
5.2% ABV  |  28 IBU
This rich amber lager is the perfect balance of roasted caramel malts and clean hop flavors, making it the perfect choice for any occasion.  This easy drinking beer is more refreshing than other amber style lagers out there. Pair with the Klondike Supreme Bonanza Pizza.
Good Old Potosi Golden Ale – Potosi Brewing Co., Potosi, WI
4.5% ABV  |   15 IBU
This golden ale has a delicate malt flavor and a sweet finish that is light in body and full in flavor.  When the locals ask for one they say, "I'll have a Potosi."  Another great Wisconsin brewery that gets to the point, which is making good brews for the rest of us. Try with the Klondike Meaty Motherlode.
Horseshoes & Hand Grenades APA – Central Waters Brewing Co, Amherst, WI
5.3% ABV  |  45 IBU
This special release beer is inspired by the music of Wisconsin band Horseshoes & Hand Grenades.  This Citra & Mosaic hopped American Pale Ale is best enjoyed with friends old and new while playing or dancing to your favorite tunes, or unwinding after a day in the waterpark. Pairs well with the Klondike Chicken Pizza.
Summer Shandy – Jacob Leinenkugel Brewing Co., Chippewa Falls, WI
4.2% ABV  |  11 IBU
Summer Shandy is a traditional Weiss beer with refreshing natural lemonade flavor that makes it the perfect summer or indoor waterpark beer. So refreshing! Try with the Klondike Paradise Pizza. 
Crisp Apple – Angry Orchard, Cincinnati, Ohio
5% ABV  |  NO IBU
This cider has a bright, crisp flavor, with a perfect balance of sweetness and bright acidity from culinary apples and dryness of traditional cider making apples, resulting in a refreshing, hard cider. Try it alongside the Klondike Midnight Sun Veggie Pizza.
Klondike Kate's Beer Available by the Bottle or Can:
Miller Lite
Heineken
Sierra Pale Ale
Bud Light
Summit Saga IPA
Blue Moon
Coors Light
Corona