 Daily Dough Pizza Now Open at Camp Social
There's nothing better than a slab of Detroit-style pizza with its delicious chewy crust and crispy exterior. Then when you add the rich tomato sauce, Wisconsin brick cheese and other toppings you might just think you're in heaven.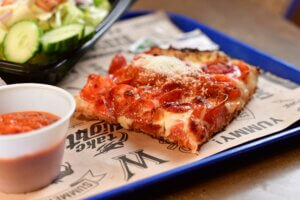 We're super excited to announce the addition of Daily Dough, a Detroit-style pizzeria, to our Camp Social evening line up. It is available either by the slice or entire pie. We've got it in cheese, single topping or specialty options. Toppings include sausage, pepperoni, ham, mushrooms, green peppers, onions, jalapenos and perfectly ripe tomatoes.
Combine it with a house salad made with fresh chopped romaine topped with red onions, cucumbers, carrots, tomatoes, croutons and your choice of dressing, or with fresh baked breadsticks with garlic and Italian seasoning served with marinara for dipping. Can we say it's the perfect family feast?
The Daily Dough pizza crust is made fresh each day so get it while you can. Supplies are limited. This great new pizzeria is joining our already delicious night time line up of Tacolicious tacos, nachos, taco bowls and walking tacos as well as great burgers and more from our Burger Bar in Camp Social.
Daily Dough is open select evenings after 5 pm. Please check our Wilderness Express in your check-in packet for hours of operation.