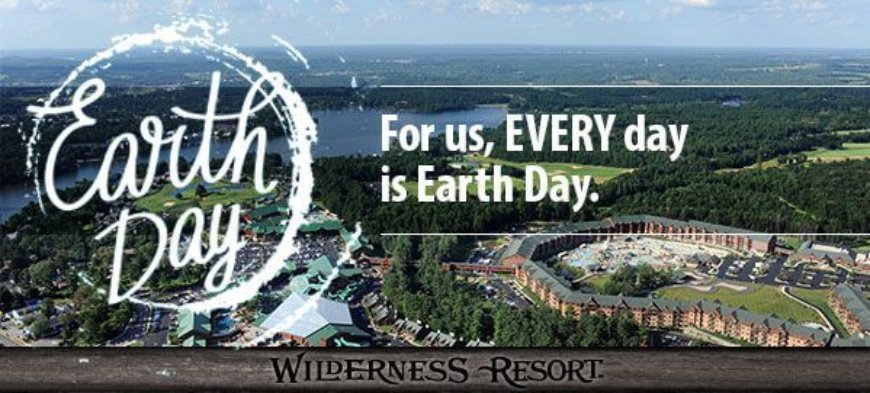 EARTH DAY – TIME TO REFLECT ON OUR GREEN INITIATIVES
Happy Earth Day! A lot of people think that since we are a waterpark we can't be earth-friendly. However, we make it a priority to be as green as possible and to always be looking for ways in which our resort can be more earth friendly. In fact, in 2010 our Glacier Canyon Lodge property received the distinguished "Green Wisconsin" Certification from the Department of Tourism. In 2014, our Wilderness on the Lake property did as well. Our goal is to have our main resort and all condos, cabins and villas eventually obtain this this noteworthy honor too.
Here's how we are currently helping our environment:
Throughout All Lodging Options We:
-Use environmentally friendly cleaning supplies
-Utilize energy LED efficient lighting in the hallways, guest rooms and parking lots
-Have installed water-saving shower heads
-Offer in-room recycling, and recycling centers for our villas, condos and cabins
-Utilize toilet and facial tissues which are made of partially post-consumer recycled fiber
At Wilderness Hotel:
-Water saving toilets have been installed in all guest rooms, and in our other properties any toilets that are being replaced are being updated with water saving toilets
At Wilderness on the Lake , Glacier Canyon Lodge, and our Villas and Condos:
An InnCom or Entergize lighting and HVAC system keeps the lights and HVAC on only when a series of sensors detect a presence in the room
Our Housekeeping Team:
-Operates Ozone laundry systems which don't require hot water and use less detergent
-Only replaces towels when they are left on the floor by guests to indicate they are dirty or at the end of a guest's stay
-Only replaces sheet's after the 4th night of a guest's stay or unless requested
Waterparks:
-In the past three years, we have converted many of our indoor pools at Wilderness Hotel and Wilderness on the Lake to UV water treatment systems. These state of the art systems improve water quality through the use of UV light resulting in less need for chlorine and other pool chemicals. This is better for the swimmer's skin and also improves the overall air quality in the waterparks by reducing the chloramine smell associated with all indoor pools.
-During the summer months we use our discharged pool water for lawn irrigation at Wilderness Hotel and Glacier Canyon.