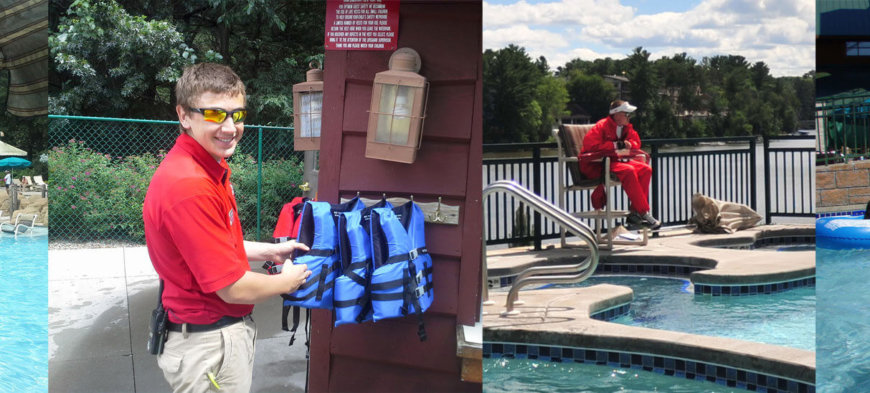 EVER WONDER WHAT IT TAKES TO BE A WILDERNESS LIFEGUARD?
Being a lifeguard may appear to be an easy job. You know the stereotype: Sitting in a chair, catching some rays, blowing their whistles.  But there is a lot below the surface of this job, and it takes some serious training to be a Wilderness lifeguard.
According to Brandon, Aquatics Director for Wilderness Territory, "Because the safety of our guests is our #1 priority, every Wilderness lifeguard has to be more than a fantastic swimmer. Each must successfully complete a 30-hour American Red Cross training session before they can assume this vital role for the resort."
The course covers everything from water rescues to basic first-aid and injury care, as well as, breathing and cardiac emergency treatment. Those enrolled must pass both a written and physical test before earning their official American Red Cross Certification.
And our training doesn't end there.  After becoming certified,we make sure our lifeguards' skills remain top-notchwith weekly, mandatory in-service sessions. Here, lifeguards participate in team simulations to hone their skills and identify areas of improvement.
Our training just wouldn't be complete without a pop-quiz or two…daily!  Read more about the 'pop-quizzes' as observed by a mom who blogged about it here: https://babygizmo.com/this-ball-makes-wilderness-even-more-kid-friendly/
"Being a lifeguard at the Wilderness Territory is serious business," says Brandon. "We want our guests to be safe so they can fully focus on enjoying their vacation with us."