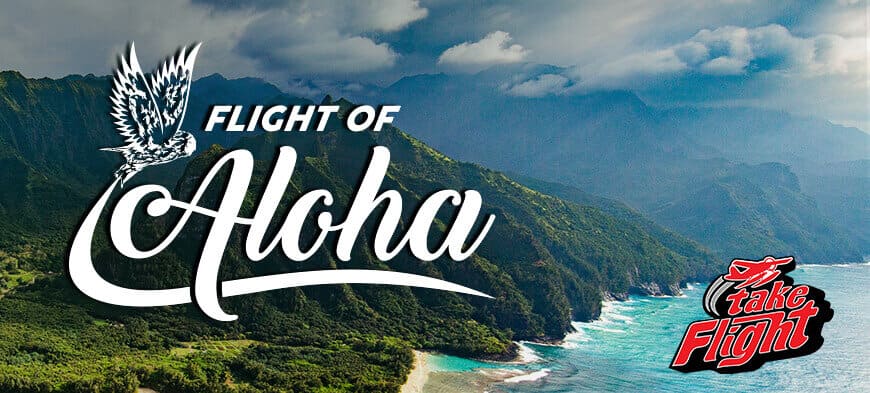 Flight of Aloha Coming to Take Flight
The Flight of Aloha takes riders on a cultural exploration that prior to now has only be reserved for Hawaiian Royalty.
Produced by Ola Shaw, inspired by his mother and father, the Hawaiian native wanted to create something that truly represented the Hawaiian culture.
"From day one it has been a priority of mine to create a film that is true to our culture," said Shaw. "I wanted to make sure that when people left our film they felt a connection to our people and our islands. I know that I feel even more connected to my ancestors through creating this incredible film."
The film showcases the historical significance of the Valley Isle while highlighting its natural beauty. It reveals untouched and remote destinations all captured in the highest definition for realism. Participants will be treated to breathtaking deep diving with waterfalls, skimming jagged landscapes, helicopter sights, parasailing over the pacific, trailing down sea-side cliffs, and gliding over scenic hilltops. Whether it's the lush countryside, rugged terrain, or natural swimming locations, a trip to Flight of Aloha is made worthwhile on a single ride.
Sensory enhancements like wind, a motion simulator and scents complete this immersive experience. Everyone is sure to leave with a newfound appreciation for Maui.
The film was produced in 2020 and edited into 2021 by Matty Schweitzer and Ola Shaw. The amazing soundtrack was written by Paul Dinletir of Audiomachine. The lyrics and vocal performances were written and performed in Hawaiian language by Hawaiian natives Kaniala Masoe and Makamae Auwae.
Flight of Aloha is to hit theaters end of January and the cost is $17.99 for the general public and $12.99 for our hotel guests.  This film will also be available to upgrade to a double feature where you can watch both our signature film Flying Wild along with Flight of Aloha for $25.98 for the general public and $20.98 for our hotel guests.