 GET TO KNOW BRYAN OUR MANAGER ON DUTY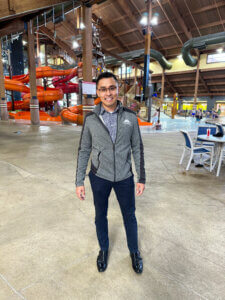 Name: Bryan
Title: Manager on Duty
So what does your title mean you do at the Wilderness?
I am responsible for addressing any and all guest complaints in a prompt service-orientated manner. I habitually tour all areas and departments of our resort ensuring that all areas are welcoming, clean, and orderly so our staff can provide the utmost service to our guests.
What is the best part of your job?
The highlight of my job would be the enjoyment I get in helping both guests and employees.
How long have you worked at the Wilderness and in what roles?
I have worked at the Wilderness for six years. For the first four years, I worked in Guest Services under a very knowledgeable director that helped me grow greatly. I worked from a Front Desk Associate to a Supervisor to a Manager. For the last two years, I have worked under an incredibly insightful Director who has further nurtured my skills as a Resort Manager.
Favorite wet attraction at the Wilderness?
Cubby's Cove Outdoor Waterpark is very relaxing and the scenery is surreal in the summer.
Favorite dry attraction at the Wilderness?
The Lost World Outdoor Go-Karts.
Favorite food venue at Wilderness?
Field's at the Wilderness.
Favorite thing to eat while at the Wilderness?
The West Coast Wrap from Swimm'n Chick'n
Favorite beverage for after work?
Tequila Old Fashion from Sarento's Italian Restaurant.
Piece of advice for first time guests?
Take a picture of the map with your phone for on-the-go directions.
Now for some fun stuff:
Favorite toy when you were a kid:
Soccer ball
All-Time Favorite Movie:
Nacho Libre
All-time favorite TV series:
Suits
Favorite ice cream flavor or Pistol Pete concoction:
Vanilla ice cream
What toppings do you like on your pizza:
Ham and pineapple although a bit controversial.