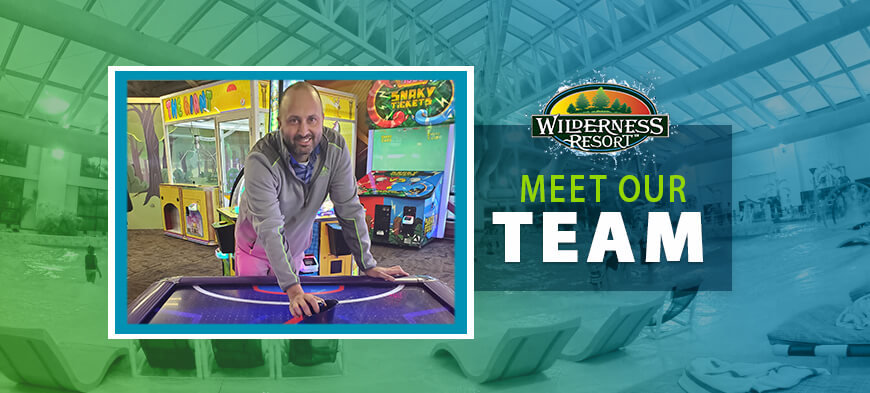 Get To Know Chris Our Attractions Director
Name: Chris E.
Title: Director of Attractions
So, what does your title mean you do at the Wilderness? I like the variety of my job. No day is the same and I love helping our staff as well as interacting with the guests. In the Attractions Department, we get to be kids all day and I love to see our guests enjoying themselves at the attractions.  At the ropes course, I love seeing a guest get over their fear of heights with my staff assisting them across a tough obstacle, Or, seeing a first time kid drive a go-kart at the Kiddie Karts as Mom and Dad root them on. Or, seeing someone get a hole in one. There are many magical moments that can happen in the attractions world, and I like to encourage everyone to be a kid and have fun.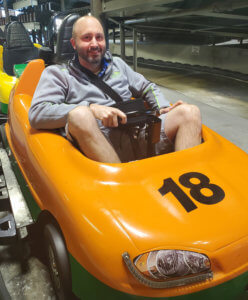 How long have you worked at the Wilderness and in what roles?
22 years!
My very first year I was hired as a part-time range picker. I was that little small kid that had to wake up at 4:30am and then be at work from 5:30am-8:30am five days a week. I did it more for the free golf but then I got offered more hours as a cart attendant. My job the turned into a yearly position with working in the waterparks in the winter and golf in the summer. When I went to college at UW–Baraboo, I took it upon myself to get as much knowledge and cross-training as I could here at the Wilderness.  I worked in food and beverage roles, resort management, facilities Management, and then in 2010, I accepted the role as zip line manager. We then added a ropes course in 2011, which changed my position to attraction manager which then lead to me becoming a director for the Attractions Department.
Favorite wet attraction at the Wilderness?
Slide Boarding – Who doesn't want to play a video game inside a waterslide?
Favorite dry attraction at the Wilderness?
OK, this is a tough one and I need to split this up as far as an indoor and outdoor attraction as I work in this realm! My favorite outside dry attraction is our zip line. There is nothing better than "flying" outside with no cell phone in my pocket;  I am free from the real world, and can just sit back and fly and enjoy the scenery!
As far as indoor attractions, my favorite is our new Take Flight Aerial Adventure Ride! This is not just the best attraction at the Wilderness, but it is the best attraction in Wisconsin Dells!   You get to feel that same sense of flying I love from the zip line inside at Take Flight! Your seat moves to the motion of the film and you also feel the wind, smell the pines of the trees and even get a little mist along your journey. We have two films, Flying Wild and Ice Age No time for Nuts. Anyone 4 years old and 32" inches or taller can ride Take Flight so it is great for the entire family!
Favorite food venue at Wilderness?
I am going to have to go with Field's as I love their menu as you can go there just for the apps or you can go there for an outstanding meal.
Favorite thing to eat at Wilderness?
Boom Boom Chicken from the Lost World Grill Stand
Favorite adult beverage at the Wilderness for when you get done with work?
Coffee or Monster Zero because I need my energy to carry on when I get home and want to have fun with my kids.
Piece of advice for first time guests?
Since I am in the attractions world and queue lines can be long during the peak seasons, the secret to shorter wait times is to do the dry attractions before 11 am or do them between 3 pm-7 pm. And, the best advice I can give you is to go try Take Flight! You will not be disappointed! It is such a unique experience!
Now for some fun stuff:
Favorite toy when you were a kid?
It was more of an activity than a toy – Pogs! I loved using my slammer to get my friend's pogs!  Man, do I hope that makes a comeback!
All-time favorite movie?
I am a huge golfer so it has to be Happy Gilmore!
All-time favorite TV series?
I really don't have a series, but I am sports enthusiast, so if you come over to my house, you will always find a sporting event on.
Favorite ice cream flavor or Pistol Pete concoction?
Cookie Dough
What toppings do you like on your pizza?
Did someone say pizza?  This is my worst enemy but my go to is just a plain sausage and onion!