 Get To Know Cindy, Our Housekeeping Administrative Assistant
Name: Cindy
Title: Housekeeping Administrative Assistant
So, what does your title mean you do at the Wilderness?
I make sure that all housekeeping employee have schedules. I check clock-in/out times and attendance records.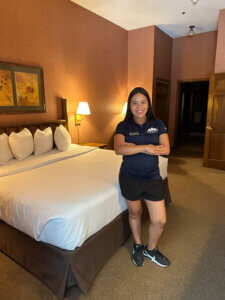 What is the best part of your job?
The best part of my job is working with people from many different cultures who challenge me to learn new ways to communicate, understand their behaviors and share a little where I come from too.
How long have you worked at the Wilderness and in what roles?
I have worked for the Wilderness for one year. I started as housekeeper in freestanding, condos, villas and cabins. Then I was transferred to Wilderness on the Lake as an inspector. Then in September 2022, I was promoted to Housekeeping Administrative Assistant.
Favorite Wet Attraction at the Wilderness?
Lost World Waterpark-Crocodile Cove
Favorite Dry Attraction at the Wilderness?
Take Flight
Favorite Food venue at Wilderness?
Field's at the Wilderness. I love their Shrimp Scampi.
Piece of advice for first time guests?
Ask Wilderness employees for help if you have questions during your visit. We are here to help! In addition, be sure to grab a couple of maps of our resort when you check-in. It is huge and you need a map for navigation.
Now for some fun stuff:
Favorite toy when you were a kid:
Barbie
All-Time Favorite Movie:
Shrek
All-time favorite TV series:
Friends
Favorite ice cream flavor or Pistol Pete concoction:
Mint Chocolate Chip Lover
What toppings do you like on your pizza:
Extra cheese and ham