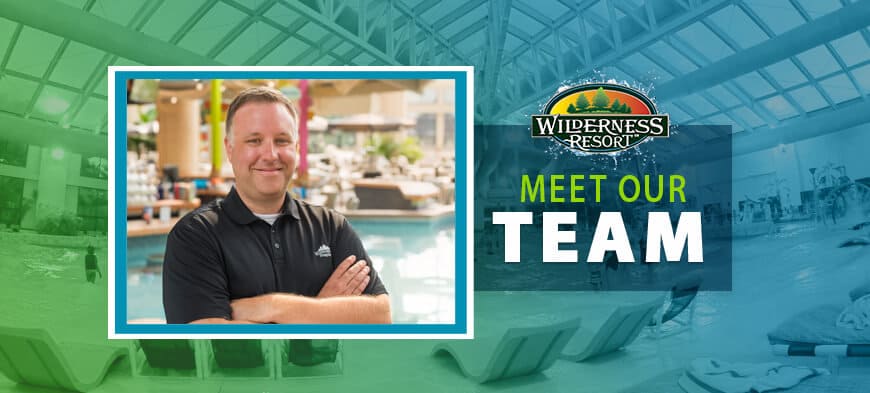 Get To Know Eric our Food & Beverage Director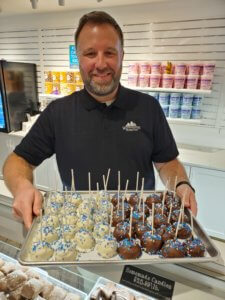 Name:  Eric
Title:  Food & Beverage Director
So, what does your title mean you do at the Wilderness?
As Food & Beverage Director, I oversee all aspects of the resort's food and beverage locations, with responsibilities including menu planning, staffing, presentation of food and drinks, and adherence to quality and safety standards.
What is the best part of your job?
I was destined for the hospitality business since I was young. As children, our parents took my two sisters and I traveling all over the world.  The hotels, the cooking, the entertaining… I was interested in the business side of travel from and wanted to learn what made people feel good. Working at the Wilderness has helped me hone my skills in this area.  To learn and anticipate what guests want for dining while on vacation is fun! Our Food & Beverage team works hard to keep our fingers on the pulse of trends, and we're constantly working together to create new concepts in an attempt to perfectly pair a culinary and beverage experience that Wilderness guests will enjoy. Being able to create memorable dining experiences for our guests is without question one of the great parts of my job.
How long have you worked at the Wilderness and in what roles?
21 years!
My very first job here was as a cashier in the Raccoon Saloon.  The Raccoon (as we called it internally) was an outdoor bar & grill area that was in The New Frontier outdoor waterpark section of the resort.  This outdoor area is no longer here, since being turned into what is now the arcade and go-kart section of the resort that attaches Camp Social to the WaterDome, but I'll always remember how much fun we had working this bar!
After that, I rose through the ranks to being a bartender, shortly after that a F&B Supervisor, then Assistant Manager until I received the promotion to Food & Beverage Manager in 2007.  That was a position I held until just recently when I was promoted to Director at the end of 2020.  What a ride!
Favorite wet attraction at the Wilderness?
Has to be Haley's Comet Racers.  Going head first is the best.
Favorite dry attraction at the Wilderness?
I'm unbeatable on the indoor go-kart track.  UN-BEATABLE!
Favorite food venue at Wilderness?
This is like naming your favorite child… how can I do this?! I will say Camp Social has my heart at the moment.  It's our newest venue, and the Summer Camp theme is just so darn fun.  Our designers did a great job taking the vision and bringing it to life.
Favorite thing to eat at Wilderness?
Well since we're on the topic of Camp Social, the Special Burger at The Burger Bar at Camp Social Food Hall is up in my top 5 favorite foods here. It comes topped with house made bacon jam, creamy Brie cheese and fresh arugula. And with the fresh, locally raised, 100% ground chuck beef we use for our patties, you can't beat these burgers.
Favorite adult beverage at the Wilderness for when you get done with work?
The Happy Hour at our steakhouse Field's is the greatest. And we're changing up the cocktail menu seasonally. In fall 2019, we had a Cider Old Fashioned on the menu and I still remember it as being an all-time favorite of mine. It was made with Wollersheim Brandy, Local Ski-Hi Apple Cider, bitters & a dash of cinnamon. It was delicious!
Piece of advice for first time guests?
If you're coming during the warm months, don't miss out on our championship golf course Wild Rock!  We're definitely known for our waterparks, but there's always a few hours in the mornings to play some holes. Wild Rock has an 18-hole course that is one of the best in the state, but it also features a great 9-hole short course, The Woods, that is perfect to practice your iron game and great for any beginners in your family.
Now for some fun stuff:
Favorite toy when you were a kid?
Not sure this classifies as a toy, but I spent more time with my basketball hoop than anything else… it was a great place to get away from my sisters!
All-time favorite movie?
Wall-E
All-time favorite TV series?
Game of Thrones
Favorite ice cream flavor or Pistol Pete concoction?
Here's where I may get a little boring… I'm a vanilla with Oreo guy.
What toppings do you like on your pizza?
On our Boomtown Golden Nugget pizza at the Klondike Pizza Kitchen, we top with bacon, chicken breast, red onions and FRESH WISCONSIN CHEESE CURDS.  This is my go-to topping mash-up.