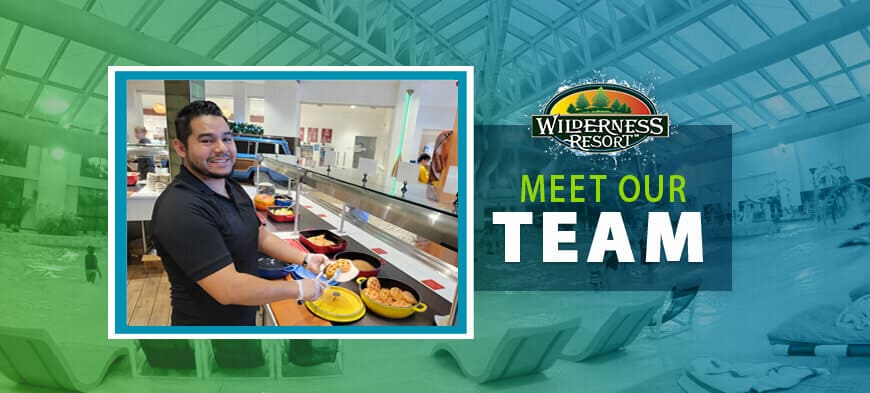 Get to Know Felix One of Our Kitchen Leaders
Name: Felix
Title: Kitchen Leader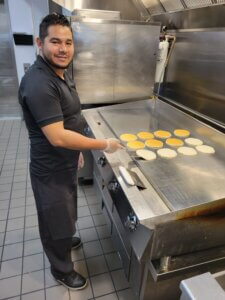 So, what does your title mean you do at the Wilderness?
I work as a kitchen lead and prepare meals for guests who come from all over to stay here.
What is the best part of your job?
Making the guests happy with their food and being able to talk to them when possible about their stay.
How long have you worked at the Wilderness and in what roles?
16 years in food and beverage mostly cooking.
Favorite wet attraction at the Wilderness?
Klondike Waterpark's lazy river, it's a great place relax.
Favorite dry attraction at the Wilderness?
Take Flight
Favorite food venue at Wilderness?
Field's at Wilderness they have great food and a great atmosphere.
Favorite thing to eat at Wilderness?
Blackened Prime Rib at Field's – Yum!
Favorite adult beverage at the Wilderness for when you get done with work?
Modelo – my favorite beer!
Piece of advice for first time guests?
The Wilderness is a big property. Make sure you allow yourself enough time to enjoy all the Wilderness has to offer and don't miss Take Flight and enjoy some great food.
Now for some fun stuff:
Favorite toy when you were a kid?
I didn't have a favorite toy but I loved to play soccer.
All-time favorite movie?
Fast and Furious
All-time favorite TV series?
Money Heist
Favorite ice cream flavor or Pistol Pete concoction?
Cookie Dough
What toppings do you like on your pizza?
Pepperoni and lots of it.