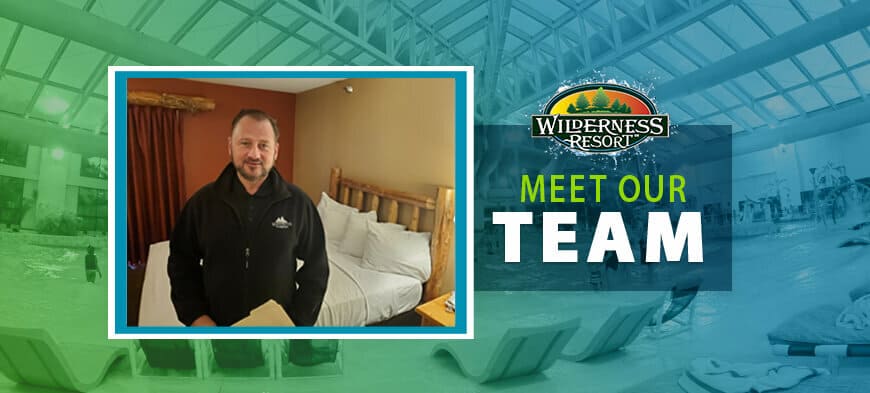 Get to Know Joe our Housekeeping Director
Name:  Joe
Title:     Director of Housekeeping
So, what does your title mean you do at the Wilderness?
I oversee all aspects of the Resort's Housekeeping Departments which include guest units, common public areas and laundry. My main responsibility is to ensure the cleanliness of the entire resort for all our guests in order to provide the highest guest satisfaction possible.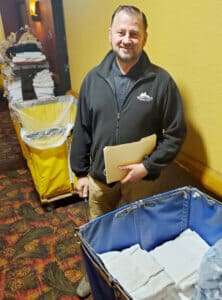 What is the best part of your job?
Every day is a new adventure in the Housekeeping Department, and I enjoy the challenges it brings. It is no small task to get over a thousand units properly cleaned within a few short hours. The Housekeeping Department is a fun and exciting department to work in and it is never boring. I really enjoy the interactions with our resort staff and especially interacting with the guests. Seeing how happy they are with their rooms and enjoying the resort with their families really gives me great joy.
How long have you worked at the Wilderness and in what roles?
Twenty years! From the start, I have always worked in Housekeeping Management. I started out as an Assistant Housekeeping Manager and quickly moved up to Housekeeping Manager. After that, I became the Executive Housekeeping Manager and then, I was promoted to Housekeeping Director.
Favorite wet attraction at the Wilderness?
Cubby's Outdoor Waterpark at Wilderness on the Lake. Its vanishing edge infinity pool is awesome. When you are in the pool swimming, it looks like it blends directly into Lake Delton. Also on the top of my list is the outdoor hot spa of course… it is just pure relaxation at its best.
Favorite dry attraction at the Wilderness?
Take Flight Theater, our newest attraction, is top notch without a doubt!
Favorite food venue at Wilderness?
Tacolicious Taco Truck at Lost World Outdoor Waterpark – where every day is Taco Tuesday.
Favorite things to eat at Wilderness?
The Candy Cabin has the best freshly made chocolate covered Jalapenos that makes my mouth water.  Literally!
Favorite adult beverage at the Wilderness for when you get done with work?
After a crazy day at work, my first go to drink is scotch on the rocks.  That really hits the spot!
Piece of advice for first time guests?
Wilderness has so many fun and exciting activities for everyone of all ages.  My advice – don't worry about trying to do everything all at once.  Spend some real quality time with your family and enjoy the day in a fun and relaxing way.  If you don't make it to every activity, that's okay – save it for next time.  This way, your family will experience the other new activities then and the trip will be even more pleasurable for both you and your family.
Now for some fun stuff:
Favorite toy when you were a kid?
The Green Machine – It's like a Big Wheel on steroids…
All-time favorite movie?
The Godfather – Parts 1 & 2.
All-time favorite TV Series?
Dr. Who – Both the old and dew series.
Favorite ice cream flavor or Pistol Pete Concoction?
Black Cherry is my favorite flavor and a banana split is my favorite Pistol Pete Concoction.
What toppings do you like on your pizza?
Spinach.  Yeah – that's right. I'm an old-fashioned Chicago style deep dish pizza kinda guy.  There is nothing better than a Chicago style spinach deep dish pizza – NOTHING!