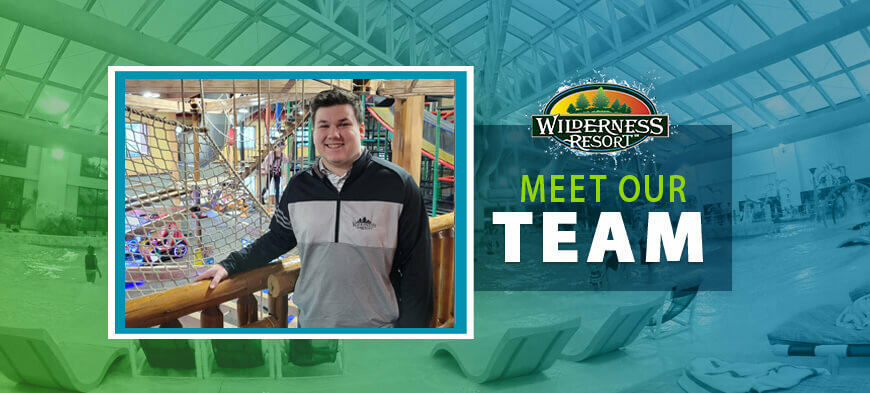 Get To Know Nick our Assistant Attractions Manager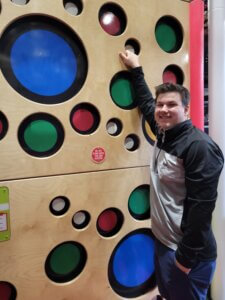 Name: Nick
Title: Assistant Attractions Manager/Take Flight Manager
So, what does your title mean you do at the Wilderness?
I oversee operations of Take Flight and all the attractions at the Wilderness Resort.
What is the best part of your job?
The best part of my job is meeting new people. We have students that come from everywhere around the world and it is so cool to learn about different cultures.
How long have you worked at the Wilderness and in what roles?
I have worked for the Wilderness for 9 years! I started in 2013 as a slide attendant/lifeguard in Aquatics. In 2016, I became an Aquatics Supervisor. In 2018, I transferred to Attractions as a Supervisor. Within a couple of months I got promoted to Shift Manager and Night Shift Manager later that year. In 2022, I was promoted to Assistant Attractions Manager/Take Flight Manger and hope to continue to grow with this amazing company.
Favorite Wet Attraction at the Wilderness?
Black Hole in Wild West Waterpark
Favorite Dry Attraction at the Wilderness?
Wilderness Canyon Zip Line
Favorite Food venue at Wilderness?
Jurassic Joe's. You can never go wrong with a boom-boom burger!
Piece of advice for first time guests?
Be sure to grab a map. The Wilderness is a huge resort and it is easy to get confused or lost. Also remember the second floor is the main floor throughout the resort.
Now for some fun stuff:
Favorite toy when you were a kid:
Hot Wheel Cars
All-Time Favorite Movie:
Interstellar
All-time favorite TV series:
Vikings
Favorite ice cream flavor or Pistol Pete concoction:
2 Scoops of Pumpkin Pie Ice Cream
What toppings do you like on your pizza:
Everything but pineapple!