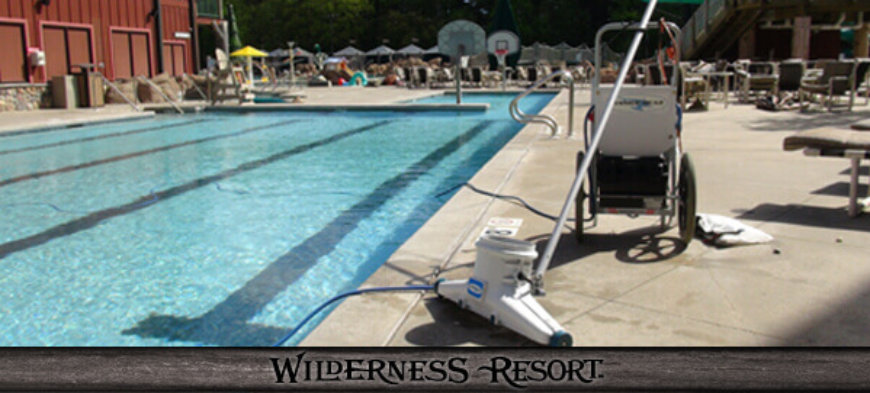 Getting Ready for Summer Takes a Team Effort at The Wilderness
Have you ever stopped to think about all that goes into getting our outdoor waterparks and resort ready for summer? We have to say we have the most amazing, hardworking employees who make it all happen. Here's a bird's eye glimpse of what some of our departments are doing to make sure your family can have a fun family vacation this summer.
Maintenance
Is clearing out the waterlines in outdoor restrooms, food outlets, equipment rooms and waterparks and starting up the water systems which were winterized in fall. The 25 pools and slides are being cleaned and repaired one at time to make sure all motors, pumps, filters and everything else is in proper operation and that there are no leaks.
Aquatics
Is busy power washing the slides, towers, waterpark decks and pool furniture. They are also training new life guards and making sure all life guard stations are stocked with the necessary supplies from life jackets to bandages.
Housekeeping
Is conducting extra deep cleaning throughout the resort to make sure it is ready for our busiest season.
Grounds Crew
Is busy mowing the lawn, working with our fabulous landscaper, Jerry D's, to plant our beautiful flower beds, and pruning trees.
Food & Beverage
Is busy reviewing menus, cleaning and prepping the outdoor outlets, ordering nonperishable supplies and making lists of what perishable supplies they will be needing soon. They are also training our new wait staff. Soon they will be stocking the outdoor bars, freezers and coolers with perishable supplies  and prepping food for an amazing summer.
Marketing
Is working with all of the departments at the resort to make sure they have the signage, menus and printed materials they need to promote their new items and attractions.  They are also busy communicating with future guests through social media, e-newsletters, online ads, our website and blogs about what's new for summer at the resort, golf course and spa.
Human Resources
Is busy processing the paperwork so our 500+ seasonal workers can begin working. They will also be conducting customer service training, and teaching our workers all about our fabulous resort so that everyone is staffed and ready to welcome our summer guests.