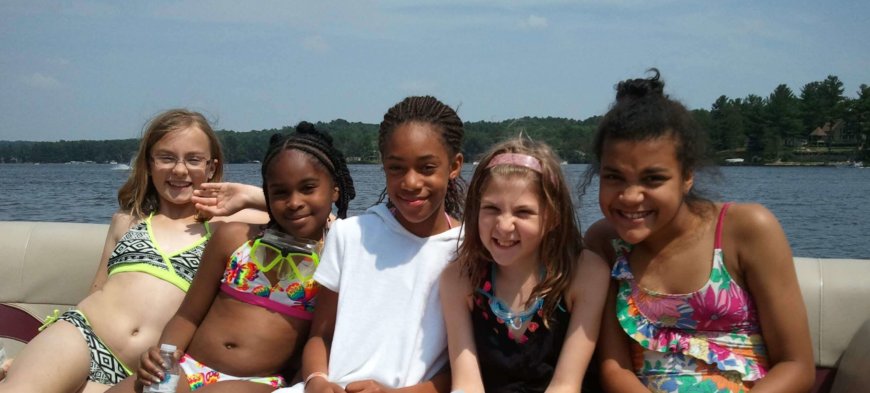 GIRL SCOUT TROOP HAS A BLAST AT WILDERNESS ON THE LAKE
A guest blog by Bridget, Leader of Girl Scout Troop 3019 of Milwaukee
Our family is a huge fan of the Wilderness so this year when I was looking for a special way to reward our girl scouts for doing a fantastic job of selling cookies, I booked a trip for Troop 3019 to Wilderness on the Lake. We rented a 3-bedroom lake condo with a loft that was the perfect size for our group of 9 girls plus three leaders, and I wanted to share this idea with others because we had so much fun!
Our troop traveled from Milwaukee and arrived at Wilderness on the Lake early on Sunday. So, after registering and getting our wristbands, we headed to the waterpark for a swim. We ordered pizza for lunch from the eatery inside the waterpark while the girls were playing. After we ate lunch, we took our luggage up and got settled in our condo. Once everyone had chosen their beds and stashed their bags, we took the Wilderness' fun water taxi across beautiful Lake Delton and caught the resort's free shuttle to take in some waterpark park action at the main resort.
After playing for hours in the waterparks, everyone was ravenous again, so we took the troop back to the condo to prepare a taco dinner. Having the full kitchen in our condo meant that we could have the girls help prepare meals—and it also helped to s-t-r-e-t-c-h our troop's budget! After dinner, we decided to go down to Wilderness on the Lake's outdoor waterpark, since it was close and convenient. By the time the waterpark closed for the evening, the girls (and us leaders) were ready to relax with some popcorn and a movie in our condo. It was the perfect ending to a perfect day.
Monday morning came and the girls were ready for more fun! After preparing and eating a delicious breakfast of pancakes, sausage and fruit, we packed a picnic lunch for later in the day. We started our fun with a round of mini golf at Wilderness on the Lake. Then, we all traveled by shuttle to yet another waterpark. I think we managed to visit six different waterparks over the two days we were visiting the Wilderness! Our troop loved the wide variety of activities to choose from. And because each waterpark had slides and attractions ranging from "mild" to "thrilling" every girls' preference was accommodated. The girls were fantastic about using the buddy system the whole time, and even us leaders were able to relax and have a fantastic time.
Thank you, Wilderness Resort, for helping us to create some incredible memories for our girl scout troop!