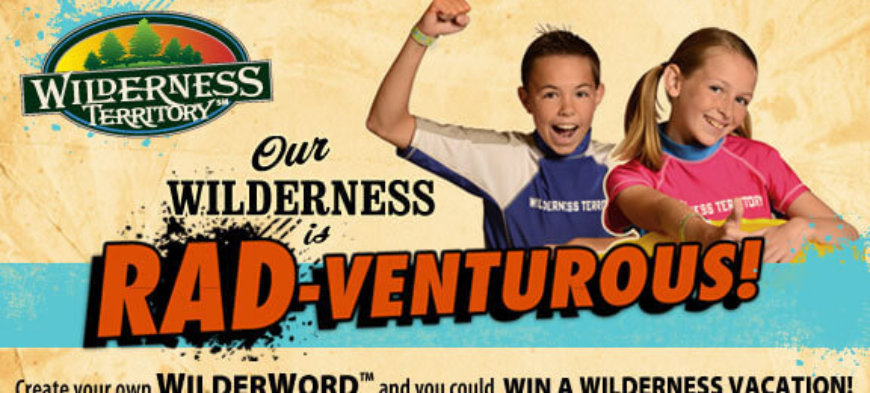 HOW DO YOU DESCRIBE THE WILDERNESS? TELL US AND YOU COULD WIN A GETAWAY!
We realize that our resort means a lot of things to a lot of different people. That's why we've created a fun contest running through the month of March to find out some of the "Wilderwords" people use to describe us.
So grab your video camera or smart phone, record you or your family's 'WilderWord', upload that video to YouTube or Vimeo, and share your video link with us on our Facebook page located at http://bit.ly/YGo7S7. Entries may include just a recording of the unique 'WilderWord' or may include other creative elements, descriptions, dances or groups. All videos must be uploaded by 11:50 CST on March 31, 2013.
Voting for the best 'WilderWords' will occur on our Facebook page for two weeks, from April 1-14. On April 15, one creative Grand Prize winner will receive: a Wilderness Getaway Package For Four; including a two-night stay at Wilderness Hotel with waterpark passes included, a one-day cabana rental, breakfast for a family of four at Wild Canyon Café and four Wild Fun Passes ($900 value). The 1st Runner-Up will receive: A two-night stay at Wilderness Hotel for four people with waterpark passes included. ($600 value); the 2nd Runner Up will receive: a one-night stay with 4 waterpark passes included. ($300 value); and 20 "Guide Favorite" entries will receive: a $25 Wilderness Gift Card. All winning entries may also be considered for possible inclusion in future Wilderness commercials or in-house videos.
Official contest rules can be found at https://www.wildernessresort.com/contest-rules.html. All entries must be submitted by adults 18 or older. Group entries will infer permission is allowed by all pictured and only one prize will be awarded. Fans can enter as many times as they want, but can only win once.