 Introducing Molly's Shake Shoppe!
We're super excited to unveil our new Molly's Shake Shoppe located in the Wild WaterDome.
This shoppe serves up classic vanilla shakes with a modern twist which are sure to delight your tastebuds and satisfy your sweet tooth.
Here's some of what you can expect: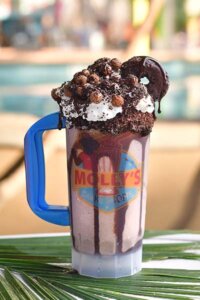 Birthday Cake – Cake Batter shake with whipped cream, sprinkles, gummy bears, an iced cupcake and a candle on top.
Cotton Candy – Cotton Candy shake with whipped cream, candy ribbons, cotton candy cane, and sugar on top.
Dreamsicle – a Vanilla-Orange shake with whipped cream, rock candy, fresh orange, orange cane, and sugar pearls.
Coocoo for Cocoa – Chocolate Cocoa Puff cereal shake with whipped cream, Oreo crumbles, Cocoa Puffs, and a chocolate donut topped with chocolate syrup.
Check out the Molly's Shake Shop page here.