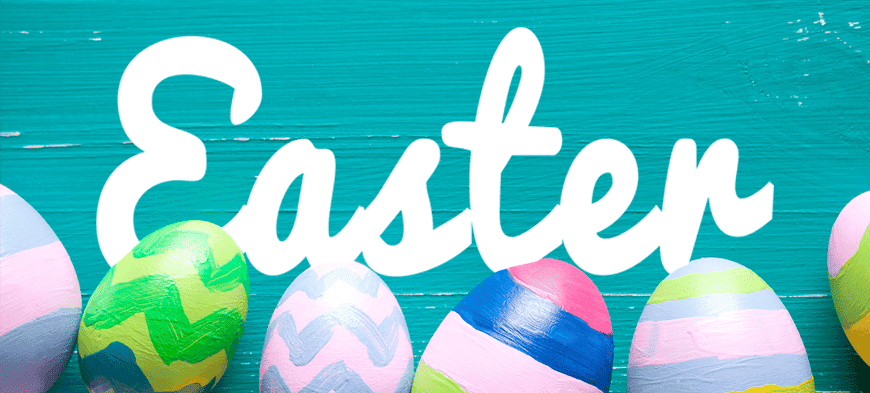 Join Us for Easter 2021!
Thinking of visiting our resort during the Easter season? Starting in March, we have a variety of ways to make it special! Be sure to check out the amazing and delicious Easter Day Brunch we have planned – Reservations for are highly recommended.
EASTER THEMED EVENTS & ACTIVITIES
WildKids Club
Daily, March 19-April 4 | 9am-9 pm 
Make fun Easter-themed crafts and color your favorite Easter picture. Free!

Saturdays, March 20 & 27, April 3 | 1-2pm  or while supplies last
Decorate an Easter themed cookie (All cookies and supplies are prepackaged as a COVID-19 safety precaution.) Free!
Hop the Bunny Trail
Fridays and Saturdays, March 19-20, 26-27 and April 2-3 | 5-7pm
Upon check-in, all guests will get a map of our Bunny Trail. To start your adventure, stop at our WildKids Club (on the 1st floor below Take Flight) to pick up a treat bag and then let your kiddos hippity hoppity down the trail just like Peter Cottontail and stop at the various locations to pick up all sorts of goodies. Free!
Easter Bingo
Fridays and Saturdays, March 19-20, 26-27, and April 2-3 | 4:30-5pm
Join us at Camp Social for Easter-themed Bingo with prizes! Free!
Easter Themed Movie Nights at Camp Social
Fridays and Saturdays, March 19-20, 26-27, and April 2-3 |6 pm and/or 7:30pm
Join us for our fun movie nights at Camp Social. Free!
Fridays enjoy:
6 pm – Trolls World Tour
7:30 pm – Peter Rabbit
Saturdays enjoy:
6 pm – Trolls World Tour
7:30 pm – Hop
Concessions are available for purchase.
Meet the Easter Bunny
Saturdays and Sundays, March 20-21, 27-28, and April 3-4 | 9-10am
The Easter bunny will be making its annual visit to the Wilderness. Make sure to get the whole family together and head to Camp Social for a special picture with the Easter Bunny. Free!
---
EASTER DAY ACTIVITIES
Easter Egg Hunt
Sunday, April 4 | Games start at 11am | Egg Hunt will begin promptly at noon
Have your kids join the fun at our GIGANTIC egg hunt located outside at Wilderland near Condo 200. Bring your own special Easter basket or we will supply you with a bag. Free!
As a COVID-19 safety precaution, masks will be required for all participants age 5 and older.
PLEASE NOTE: In the event of inclement weather, this event will not happen. Instead the eggs will be hidden along our Bunny Trail which is described above.
Easter Brunch at Camp Social
Sunday, April 4 | 7am-1pm
We're excited to announce that Camp Social will be hosting our Easter Brunch. The brunch will be served by our wait staff and will feature:
Blinis – Small yeasted pancakes topped with crème fraiche, smoked salmon, fresh dill and lemon zest
Strawberry Crepes – Filled with a vanilla-honey cream cheese filling topped with a Grand Marnier strawberry sauce, fresh strawberries and whipped cream
Carrot Cake Pancakes – Classic carrot cake flavors of spice, raisins, carrots and walnuts topped with a cream cheese frosting drizzle
Potato & Chorizo Tacos – Diced potato, onion and spicy chorizo stuffed into corn tortillas topped with Oaxaca cheese and Cholula
Creole Shrimp & Cheddar Grits – Shrimp, bell peppers & onions simmered in a spicy tomato sauce
Omelet Station – Choose from: Three cheese, Denver, and Wild Mushroom, Spinach & Monterey Jack Cheese
Potato Custard – Individual cups of shredded potato, egg custard, cheddar cheese and chives
If that's not enough to tempt your palette, we will also be serving up:
Gourmet Breakfast Pizzas
Fresh Fruit & Yogurt
Scrambled Eggs
Waffles and Pancakes
French Toast
Crème Brûlée French Toast
Chef carved Honey Baked Ham
Biscuits & Sausage Gravy
Creole Shrimp & Cheddar Grits
Pork Sausage, Bacon, Lingüiça and Steak
Fresh Donuts, Pastries and Muffins
The cost will be $23.99 for Adults; $11.99 for kids 4-12 and free for children 3 and under.
Reservations are recommended. Call 800.867.9453.
---