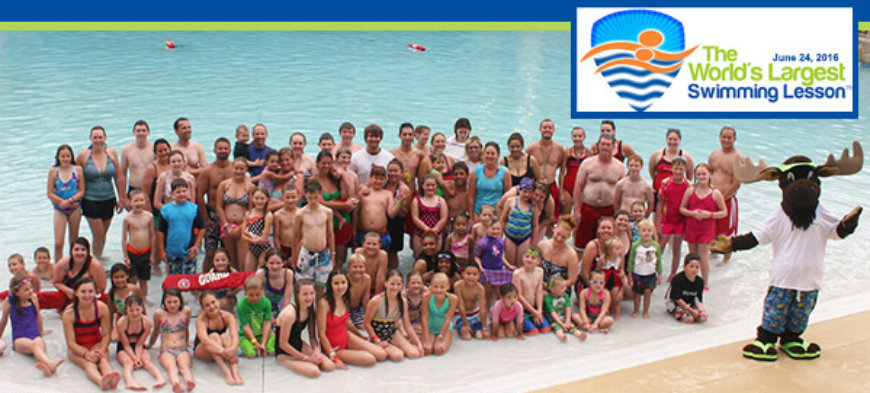 JOIN US FOR THE WORLD'S LARGEST SWIMMING LESSON ON JUNE 24TH
BECOME A GUINNESS WORLD RECORD HOLDER!

Are you going to be at staying at the Wilderness on Friday, June 24th? Do you have a child that could benefit from participating in a group swimming lesson?  Then be sure to register them for the World's Largest Swimming Lesson™ Guinness World Record attempt that the Wilderness Resort will be participating in simultaneously along with other swimming venues around the world.
The 30-minute lesson will begin promptly at 10 a.m. on Friday, June24th in our Wild WaterDome waterpark, and will cover a variety of safe-swim topics all tailored to fit a range of ages and experience levels.
According to Brandon, our Aquatics Director, "Knowing how to swim is critical for your family's safety and so we are hoping everyone staying at the resort on June 24th will want to participate in this fun event. Plus, we think it will be awesome to say that your family helped to break a Guinness World Record!"
Parents should accompany their younger children in the water. All participants will receive a bracelet and a certificate that shows they participated. (A limited number of bracelets are available.)  Parents will also need to arrive at 9:30 a.m. on June 24th, the day of the event, to complete Guinness World Record attempt paperwork. For additional information please contact [email protected].
Swimming Lessons Save Lives!™ For more information about this event go to www.worldslargestswimminglesson.org.