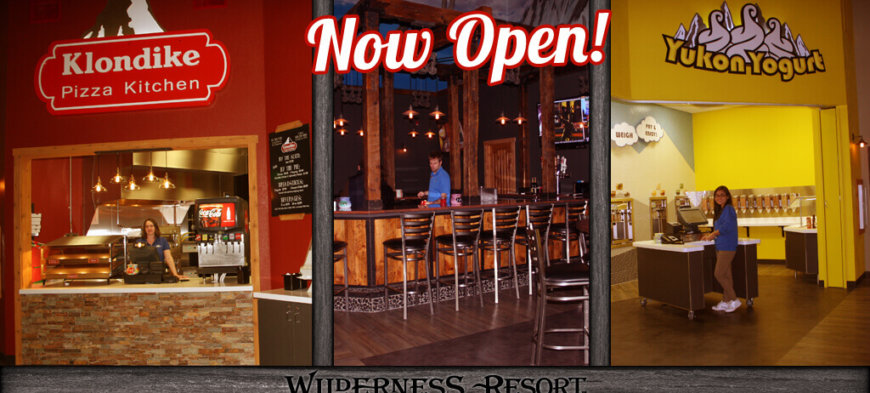 KLONDIKE BOARDWALK IS NOW OPEN!
The construction crews have cleared out and we are excited to announce that the new Klondike Boardwalk opened on Monday, April 28. Located on the mezzanine level outside of Klondike Waterpark, Klondike Boardwalk is the place to go for pizza, beverages and frozen yogurt!
At Yukon Yogurt, you can build your own sweet, frozen treat! Grab a cup, choose from the 15 flavors of frozen yogurt or sorbet, add your toppings, weigh, pay and enjoy! Some of the fun flavors include: Orange Creamsicle, Sea Salt Caramel Pretzel, White Chocolate Mousse, Strawberry Sensations, Triple Chocolate and Mississippi Mud. (Are you drooling yet?) Add some crushed candy bar toppings, nuts, fruit and chocolate or caramel sauce!  It is never the same treat twice.
Our frozen yogurt also offers good tasting wellness! In addition to being low in cholesterol and certified OU-D Kosher, each yogurt flavor contains five different live active cultures, including three probiotic strains. These help to promote healthy immune and digestive systems.  Looking for dairy free? Our sorbet fits the bill. Going gluten-free? No worries, most of our flavors do not have gluten. All of our flavors are clearly labeled whether they are non-fat, low fat or no sugar added.
Klondike Kate's Libations is our newest watering hole where you can stop by to enjoy your favorite cocktail or soft drink. Insider tip: There are USB ports under the bar so patrons can charge their devices while enjoying a cocktail! (Ladies pay attention, if you need a minute away from the kids, tell your husband that he needs to watch the kids while you go and charge your phone. He doesn't need to know there is a bar there too!)
Klondike Pizza Kitchen is the home of the Golden Nugget Pizza. Order one of our specialty pizzas topped with real Wisconsin cheese curds! We also highly recommend the S'mores Campfire Dessert Pizza! Our new hand-crafted pizzas are made with the freshest ingredients and are served at the counter by the slice or entire pie. A  few of these extravagant pizza masterpieces include the Boomtown Golden Nugget, featuring bacon, chicken breast, red onions and golden cheese curds on top of our savory marinara sauce and a generous portion of shredded whole milk mozzarella cheese. Or how about the Wisconsin Golden Nugget,  made with Wisconsin cheese curds, sliced bratwurst, onions and a smattering of sauerkraut top along with shredded whole milk mozzarella cheese and a creamy mustard garlic sauce? (Who wouldn't want to try that right?)
We also think that the Klondike Paradise sounds pretty heavenly! It features Canadian bacon, chicken breast, pineapple, light marinara sauce, whole milk mozzarella and drizzled BBQ sauce. And, if you're looking for vegetarian, we're guessing the Midnight Sun Veggie will more than please your palate. It's made with fresh tomatoes, red onions, mushrooms and roasted red bell peppers served on top of a pesto sauce and shredded whole milk mozzarella.
Forget curbside – we offer poolside delivery!  Actually, we'll deliver whole pizzas to your guestroom, condo, cabin, villa or wherever you are located at our waterparks by calling 608.254.1690 ext. 40791.    Click here to view menu.