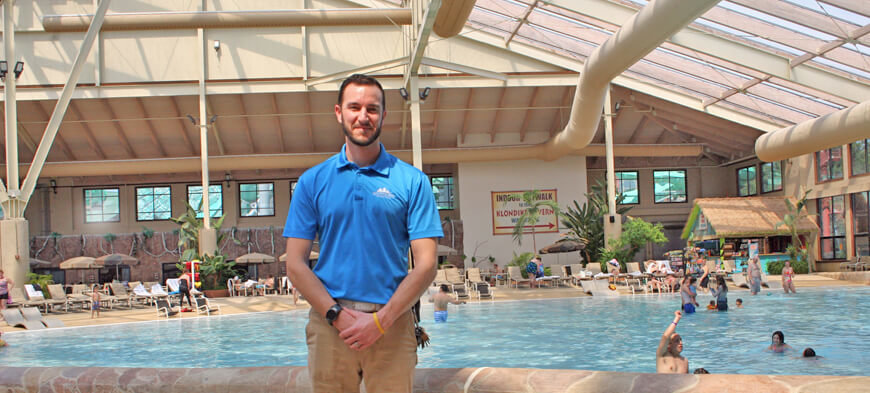 MAY IS NATIONAL WATER SAFETY MONTH – AN INTERVIEW WITH BRANDON, OUR AQUATICS DIRECTOR
May is National Water Safety Month, so we thought it would be a perfect time to sit down with our Aquatics Director, Brandon, who is also celebrating his 20th anniversary with the resort this year, to talk about Water Safety tips and why he enjoys his career at the Wilderness.
What's your number one safety tip?
Be with your children in the water, teach them that they always need to swim with an adult, and that there are no exceptions to this rule.
As a parent, when you are swimming with your child, always be aware of where the rescue equipment and nearest lifeguards and phones are located in the unfortunate event of an emergency.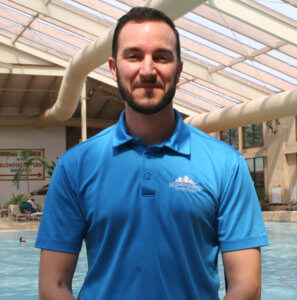 You've been with Wilderness Resort for 20 years, what is the biggest change you've seen over that time when it comes to water safety?
People are not paying as much attention to their kids in the water because they are on their cell phones. It is imperative to remember to be 100 percent present with your kids in our waterparks. A child should never be unsupervised in or near the water, even in the zero-depth areas of our waterparks. You can never guarantee they won't wander off to explore elsewhere.
How important are swimming lessons?
Learning how to swim is a valuable life skill. I can't recommend enough to enroll your children in swimming lessons taught by qualified instructors early in life. If you don't know how to swim, then enroll with your children and make learning how to swim a fun family event.
However, I also need to advise that swimming lessons don't mean that you don't need to watch your children in the waterparks. It just means you have an added level of safety for them.
What if a child is not a confident swimmer even after lessons?
Children who are unsure swimmers should always wear a U.S. Coast Guard-approved personal flotation device in the water. Our lifeguard stations have a limited number of PFDs available in multiple sizes if you forget to bring yours from home.
Common Sense Tips:
-Keep your children in age-appropriate areas, such as our zero-depth areas for toddlers. Likewise, follow the height, weight and medical restrictions for all rides. We have them posted for a reason.
-Don't drink alcohol while engaging in water-related activities. It can impair your judgement.
-Use sunscreen, whether in the WaterDome or any of our outside waterparks.
-Help keep the water in our waterparks clean.  Swim diapers are required for children under the age of two. If you are wearing band-aids, hair bands, etc., please make sure they stay on or take them out of the pool with you if they come off.
Can you tell us a little about the Wilderness Lifeguard training program?
Safety is the number one priority for us. Each of our lifeguards are Red Cross certified, meaning they have completed a minimum of 30 hours of Red Cross recognized in-house lifeguard, first-aid and CPR/AED training before being allowed to work as a lifeguard at our resort.
Each workday, there are 15 to 20 minute in-service training sessions focusing on water safety, rescue skills and emergency response to help the lifeguards keep their skills fresh.
Fun Personal Questions:
What's your favorite waterslide: The Lunar Loop for sure. The trap door and free fall sensation can't be beat. However, The Hurricane is my favorite group ride.
Favorite thing to eat in the waterparks? Golden Nugget Pizza from the Klondike Pizza Kitchen.
Favorite day of the year? The Friday before Memorial Day, when the outdoor waterparks open and there is so much excitement all over the resort.
What's the neatest part of your job?  I think the most meaningful part of my job is getting to help mold so many of my young employees into responsible young adults.  Working in our waterparks teaches staff members many valuable life lessons that they will carry with them long after they leave The Wilderness.   Meeting and getting to know J1 workers from around the world and learning about their lives back home is a close second to that.