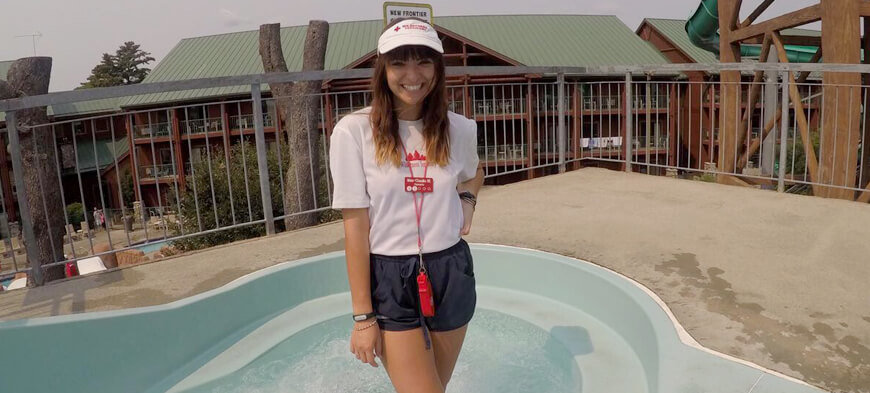 Meet Irina, one of our J1 Work & Travel Employees
In Constanta, Romania, when Irina Claudia Marin walks down the street she often gets recognized. The hair, make-up and lifestyle vlogger has amassed a following of over 147,000 YouTube subscribers and over 54,000 Instagram followers.
However, as a J1 Work & Travel  employee, working as a lifeguard for the Wilderness the past two summers she's been able to be pretty incognito up until now.
Irina, now 22 and a recent Journalism and Communication Sciences graduate, describes herself as an anxious and shy teenager who started vlogging in her native Romanian language in 2013 as an escape from reality while yet "talking" (albeit one-sided) to somebody.
She started focusing on hair videos because she was good at doing different hairstyles. Soon, due to her popularity, make-up and lifestyle vlogs followed, and so did a variety of brand endorsements. Today, her vlogs on YouTube have over 1 million views. She says her favorite vlogs to make are sketches where she can push herself to be silly.
Despite her popularity in Romania, in 2017 Irina decided she wanted to step out of her comfort zone and come to America through the J1 Work & Travel program. She loved her experience so much she returned this summer to do it again.
"I feel really lucky to be a part of the J1 program," says Irina. "I have gotten to be friends with so many students from all over the world, and I love how friendly the culture is in America. When people see my name tag and where I am from they are always curious about what my life is like back home and what brought me here.
"The J1 program has also taught me important life skills like having to be on time and being responsible for the job that is expected of me."
Irina adds that the J1 Work & Travel experience and given her a new level of confidence and as she looks to the future she still plans on vlogging but is also hoping to earn her Master's degree while studying abroad in another culture.
"You can learn so much by stepping into another culture," says Irina. I would recommend the J1 program to any student looking to broaden their perspective."