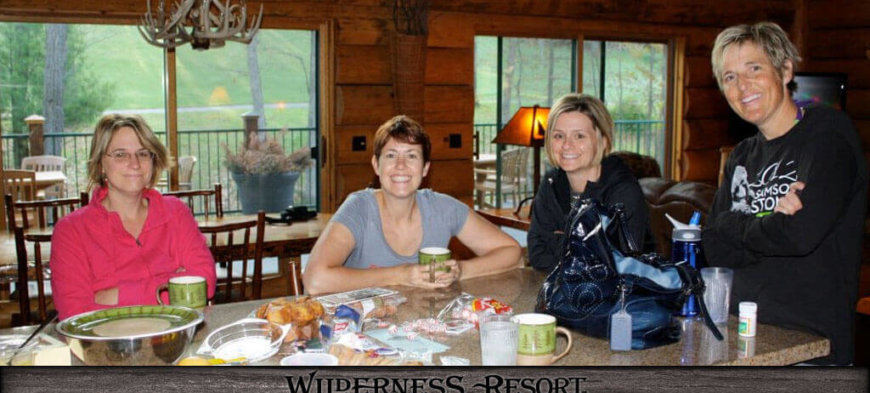 MY MEMORABLE GIRLS' REUNION GETAWAY WEEKEND
A guest blog by Kim from Milwaukee
I recently had the opportunity to reconnect with my college roommates for a 20 year anniversary at the Wilderness Resort. Some of these friends I hadn't seen in YEARS and years, since many had moved out of state. It was an extra special reunion for me, celebrating my remission from breast cancer with some of my biggest supporters. The trip was just what I needed after rounds of chemo, surgery, and radiation. We stayed in a deluxe cabin with more than enough room to comfortably sleep all nine of us. The view from our cabin was amazing, overlooking a wooded hill, with deer right outside our door. We spent the first night just hanging out in the enormous kitchen and around the fireplace, enjoying cocktails, snacks, and staying up until the wee hours catching up.
The next day, we relaxed in the hot tub in our cabin's media room while enjoying a movie. The outlet mall was close by, so we were also able to do some shopping…perfect for me, since in my excitement I had forgotten my suitcase with clothes while packing up the car. I remembered all the important things…food, drinks, the old time boom box and "mix tapes" from our college days, my pillow, but forgot my overnight bag with clothes!
After shopping, some of us hiked the trails at nearby Devil's Lake, while the rest got spa treatments at Sundara. There truly is something for everyone in the Dells! That evening, we enjoyed sampling some craft beers and going out to dinner at a nearby restaurant. Then another lovely night in our spacious cabin. The beds were so comfortable, with plush pillows and quilts. This was certainly not like the rustic log cabins I remember from fishing trips of my youth "up north". The cabin was enormous and immaculate, with vaulted ceilings, a fireplace, a spacious kitchen, a whirlpool bath, bar, and media room. And the location was close to everything, from shopping, to restaurants, Devil's Lake, and Sundara Spa.
It was hard saying good-bye on Sunday, and I hope to have many more of these "girl's getaway weekends" at the Wilderness Resort in the future. Thank you Wilderness for helping this survivor make some precious memories with my amazing friends!