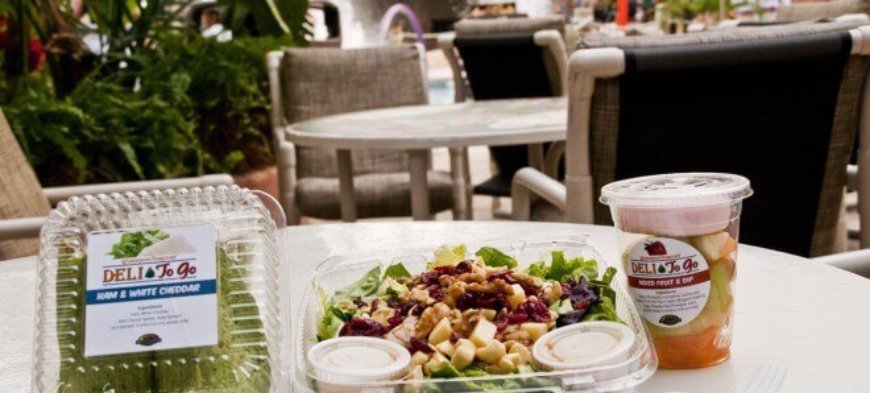 NEW DELI TO GO LINE UNVEILED IN WATERPARK QUICK-SERVICE DINING AREAS
You asked for healthier quick foods on your Wilderness comments cards, and we listened! Our talented team of chefs has just unveiled a new line of healthy "Deli To Go" items that are available for purchase at the quick-service dining areas inside our WaterDome, Klondike Kavern, Wild West and Lake Wilderness Waterparks!
These new delicious (as well as nutritious) "Deli To Go" menu items will change seasonally to take advantage of the freshest ingredients. Current menu items include:
A Wisconsin Apple Salad complemented with Grilled Chicken, Dried Apples and Wisconsin Cranberries, Smoked Gouda Cheese and Walnuts
A Cobb Salad featuring Grilled Chicken, Smoked Bacon, Blue Cheese, Hard-Boiled Egg and Ripe Tomatoes
A Ham and Wisconsin White Cheddar Wrap complemented with an Herb Cheese Spread and Fresh Baby Spinach served on a Spinach Tortilla
A Mediterranean Wrap consisting of Roasted Garlic Hummus, a Spring Lettuce Mix, Feta Cheese, Sundried Tomatoes, Basil, Black Olives and Fresh Cucumbers served on a delicious Tomato Tortilla
A Roast Beef Sandwich featuring a Zesty Chipotle Mayo served on a Fresh Asiago Focaccia Roll
A Harvest Turkey Sandwich complemented by a Cranberry Dijon Mustard, Lettuce and Swiss Cheese served on fresh Wheatberry Bread
There are also 4 new snack cup options:
Pita Chips with a Roasted Garlic Hummus
Seasonal Fresh Mixed Fruit with Yogurt Dipping Sauce
Seasonal Fresh Vegetables with Dill Dipping Sauce
Crispy Tortilla Chips and Salsa Cup
So, next time you are at the resort, try one of these great new items, and let us know what you think. We'll be watching for your input on our guest comment cards, because your opinions matter to us! Hope to see you soon!