 New Korean BBQ Food Stand Now Open in Lake Wilderness Waterpark
We're excited to announce that we have converted Midway Mac's grill stand in Lake Wilderness Waterpark into a new Korean BBQ concept called Mama Tiger.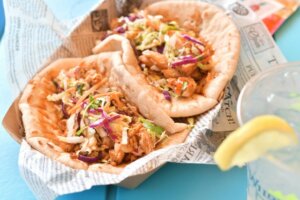 The new stand includes a selection of freshly cooked up Wings, Korean Fold Ups and Rice Bowls.
Now is your chance to try a Bulgogi Beef Fold Up with sesame slaw and gochujang sauce served on pita bread or a Pulled Chicken Fold Up with sesame slaw and teriyaki served on pita bread.
According to Eric our food and beverage director, "Guests absolutely love our Bulgogi Beef, Chicken and Veggie Rice Bowls. All feature fresh stir-fried veggies, white rice, scallions, tuxedo sesame seeds and either gochujang or teriyaki sauce. They are so flavorful and delicious."
The new food stand is open the same hours as the Lake Wilderness Waterpark.