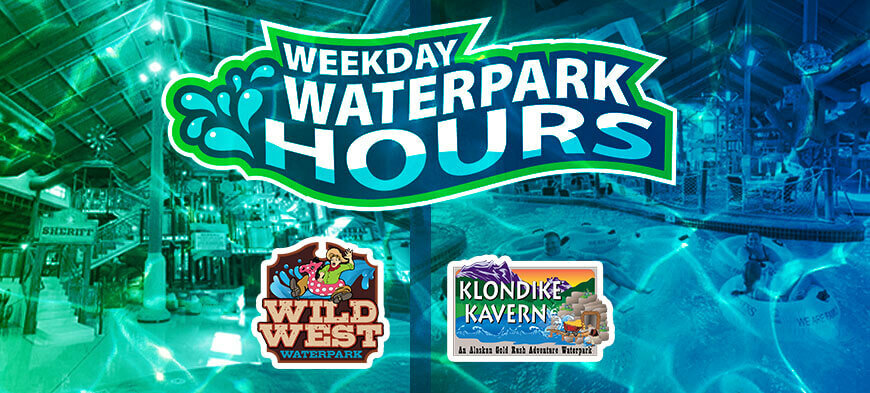 New Weekday Waterpark Hours
Everyone knows that a trip to our resort is a blast, especially in the summer and on weekends throughout the year, but have you considered coming during the week in the fall or winter?
Our most frequent guests will tell you visiting our resort during the week at these times of the year is just as much fun because lines to their favorite slide or attraction is much shorter.  The exception has been during these non-peak times we've typically kept the Wild West Waterpark closed.
Well, this is something we've changed!
As you look at our waterpark hours page, you'll find that we began a rotation of Klondike Kavern Waterpark and Wild West Waterpark during non-peak dates. This means if you come during the week your family will have the opportunity to experience all of our indoor waterparks!
Think of it this way, if your family is only able to stay one weeknight you will be able to experience the Wild West Waterpark on the day you arrive and then Klondike Kavern Waterpark on the day you depart (or vice versa). As in the past, our Wild WaterDome, with its massive wave pool, will remain open seven days a week unless there is scheduled maintenance.
Don't forget to always review the scheduled waterpark hours on our website before booking a visit so you know what to expect.
Hope to see you soon!
---
New attractions in the Wild West Waterpark include:
Warped Wagons, dueling mat racer slide.
Twisted Trails, dueling tube slide.
Ransack Ridge, all-new childrens slide and spray area.
YeeHaw's Watering Hole, swim-up bar.
Wild West Cabanas, newly reimagined western themed cabanas.