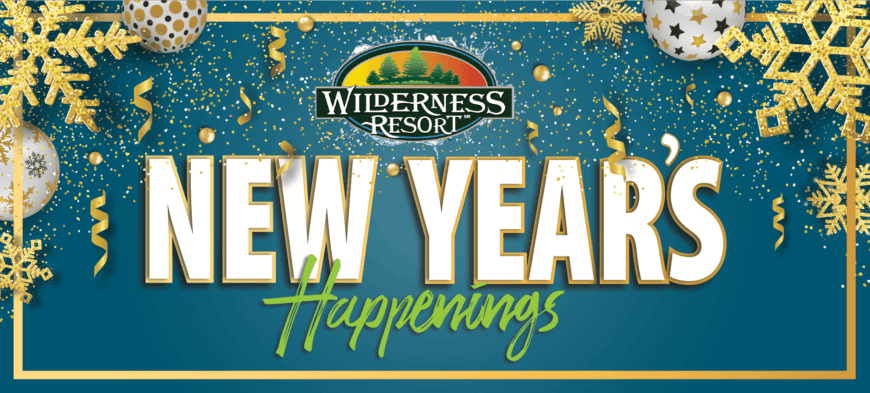 New Year's 2020 Happenings
There's no doubt about it, we're all ready to have 2020 end. And, it seems like cruel irony that we can't celebrate its final day with a REALLY BIG party.
So, after much consideration, we've decided if we can't have a ginormous party in our conference center like we usually do, we're going to literally let our guests SLIDE into 2021 by extending our waterpark hours in the Wild WaterDome and Klondike Kavern on December 31 until 12:30 AM on January 1st!
We're also going to keep a bunch of our attractions including: Take Flight, Wild Abyss Mini Golf, Northern Lights Sky Ropes Course, Lost Cabin Laser Tag, Wilderwood Indoor Go-Karts, Northern Lights Arcade and Wilderwoods Arcade ALL open until 12:30 am on the 1st so you can spread out throughout our resort and keep the fun going straight into 2021!
If you are more about ringing in the New Year with food and drinks, we're happy to let you know there will be lots of options including: Margarita's Swim Up Bar, Survivor's, Thirsty Buffalo, Camp Social's Burger Bar, Pistol Pete's, Klondike Pizza Kitchen , Klondike Kate's, Yukon Yogurt, Wooly's Eatery and Klondike Kanteen ALL open until 12:30 am as well!
Our new Camp Social will also be hosting an AMAZING ALL YOU CAN EAT Pasta Buffet from 4-9 pm on the 31st. It will include: Garden or Caesar Salad; Garlic Bread Sticks with Marinara; Lobster Bisque & Chicken Noodle Soups; Classic Favorites & Gourmet Specialty Pizzas; Baked Mostaccioli; Chicken Bacon Ranch Cavatappi; Classic Macaroni & Cheese; Cajun Ziti; Confetti Pesto Three Cheese Tortellini; Blue Crab Ravioli; Buttered Noodles, Chicken Nuggets and Tater tots for the kids; and Assorted Dessert Bars, Mini Cheesecakes, Fruit Tarts, Salted Caramel Rockslide Brownies & Chocolate Chip Cookies. It will cost $24.99 for Adults 13 and over; $11.99 for kids 4-12 years of age and FREE for children 3 years of age or under. Reservations are required. Please call 800.867.9453.
Sure, 2020 certainly presented us with lots of challenges, but here's to ending it on a positive note with lots of fun options on New Year's Eve to check out with your family. Don't forget to purchase your Fun Passes in advance, bring your masks and to socially distance while having fun at these venues! Stay safe everyone and cheer to a brighter 2021!