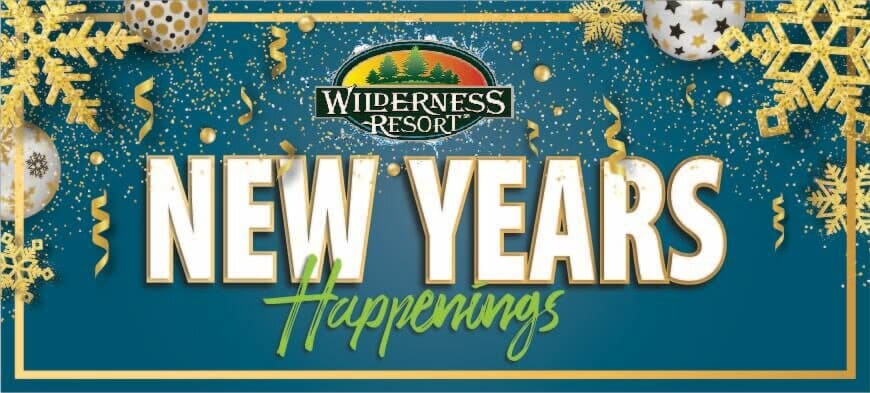 New Year's Eve Happenings
We're so excited to announce our traditional New Year's Eve celebration exclusively for Wilderness guests is returning!
Pre-Party Chow Down at Camp Social.
Before the BIG Party, bring the entire family over to our Food Hall, Camp Social from 4-9 pm to chow down on some family favorites!
Featured items include: Garden or Caesar Salad; Garlic Bread Sticks with Marinara; Lobster Bisque & Chicken Noodle Soups; Classic & Gourmet Specialty Pizzas; BBQ Ribs; Baked Chicken; Baked Mostaccioli (Marinara, Ricotta & Meatballs); Chicken Bacon Ranch Cavatappi (Ranch Alfredo Sauce, Smoked Bacon & Chicken); Cajun Ziti (Bell Peppers, Spicy Sausage, Shrimp with Cajun Cream Sauce); Confetti Pesto Three Cheese Tortellini (Carrots, Broccoli, Cauliflower, Zucchini & Red Bell Peppers with Pesto); and Braised Beef Ravioli with a Red Wine Demi-glaze, Mushrooms & Onions
For the Little Campers there will be: Chicken Nuggets and Tater Tots; Buttered Noodles; Macaroni & Cheese and Classic Pizzas
Desserts will include: Assorted Dessert Bars; Mini Cheesecakes; Fruit Tarts; Salted Caramel Rockslide Brownies; and Chocolate Chip Cookies
The cost of the Pre-Party Chow Down will be $27.99 for adults ages 13 and over; $13.99 for kids age 4-12 and free for kids under 3. Reservations are required. Call 800.867.9453 today to make your dinner reservation.
New Year's Eve Extravaganza Party 
Ready to celebrate? Our guest-exclusive New Year's Eve Extravaganza Party will be from 9:30 p.m. to 1:00 a.m. and will offer some serious fun with DJ music, dancing, party favors and a balloon drop at midnight! The cost of the party is $17 in advance for Adults 21 years of age and older (includes one drink ticket), $8 in advance for kids 3-20. At the door, tickets will be $20 for adults and $10 for kids.
Feeling lucky? We'll be having drawings at our party for several $400 gifts cards and after midnight we'll be awarding one lucky guest a $1,000 gift card to use on a return stay! Remember to bring your ID if you want to purchase alcoholic drinks, no carry-ins will be allowed at the party.