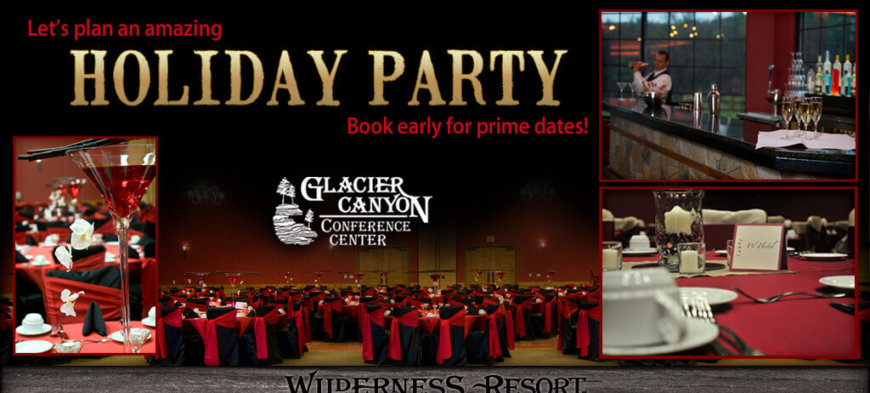 NOW IS THE TIME TO PLAN YOUR HOLIDAY PARTIES
By Shannon Timmerman, CMP, Group Sales Director for Glacier Canyon Lodge Conference Center
September is the perfect time to start thinking about your organization's holiday party. To make sure it is the best event it can be, here are some useful tips:
Timing
Everyone knows the weeks leading up Christmas can be very stressful with last minute gift buying and holiday planning. So consider hosting your holiday party in late November, early December or after the New Year in January. Doing this allows your guests to relax more and enjoy themselves rather than feeling that the event is just one more thing on their busy schedules. Also keep in mind that treating your guests to an overnight stay at the resort is a wonderful addition to any event, and that we do offer mid-week discounted room rates.
Make It Unique
A party is only memorable when it stands out. To make your event extra special, consider adding a theme. Two stand-out holiday parties we helped to plan in recent years included a Casino Night Holiday Party and a Martini Night Holiday Party. The Martini Night event incorporated an ice luge shaped like two martini glasses that served up peppermint and eggnog martinis, and it also featured a mashed potato bar which guests made in martini glasses. The sky is the limit as to what we can do for your holiday event – just use your imagination.
Looking to add a little fun? Photo booths add activity and excitement, plus a souvenir reminder of your party. Plan a White Elephant, Secret Santa or themed gift exchange. It adds anticipation and invites pre-party buzz that will help motivate attendance. If your group is too big for a gift exchange, consider hosting a charity toy or food drive in lieu of gifts. This is a great way to make your guests feel good about participating in your event and make someone else's holiday a little brighter.
Décor
Our conference center is typically decorated for Christmas from mid-December through the end of the year. If this doesn't work with your corporate culture you may want to plan your event before or after this time period. Ask for suggestions for additional decorations from your event detailer. Try to work with the theme you have chosen to provide continuity.
Also, think about what you would like for centerpieces. While flowers or holiday arrangements are great, a fun idea is to wrap up "universal" gifts to use as centerpieces and then to give them away as door prizes.
The Way to the Heart is through the Stomach
This is an important phrase to remember for party planning! If you want people to remember your event and talk fondly of it, make sure you pick a menu that is out-of-this-world. Holiday events can include formal sit-down dinners or casual strolling appetizers. They can utilize specialty holiday menu items or allergy-sensitive items such as nut-free desserts or gluten-free entrees. The choice is up to you and we're here to help you with the planning process to create an amazing holiday celebration!
For more information please contact me at [email protected] or (608) 253-8364.