 OUR NEW FAMILY REUNION TRADITION
By Guest Blogger Julie of Aurora
It is never too late to start a tradition!  In July 2014, our family added another tradition to our yearly calendar.  Making memories is what we do, and they were easily made when our family rented a spacious cabin at Wilderness Resort for the weekend.
Imagine nine adults and nine kids, ranging in age from one to ten, in a five bedroom entertainment cabin.  Each one of us experiencing and creating our own memories.  Our cabin had five bedrooms, four of which were reserved for the adults and their toddlers.  Napping on different schedules for the three, one-year-olds was easy and undisturbed with so many different rooms.   The older kids experienced freedom in the double bunk bed room.   The cousins got to spend quality time together.  I never knew the hours of entertainment that bunk beds could create!
With lots of mouths to feed, we utilized the kitchen often; but our favorite amenity was the grill.  The nice thing was that the men grilled, the kids played, and the moms relaxed on the wraparound porch soaking in the many sounds of nature and laughter of our children.  Each family covered a meal while we were there and the food was plentiful.  It was nice that we were able to bring all of our own food and save on the cost and hassle of eating out with such a large group.
Our schedule was laid back and impulsive.  We went to each of the pool areas at least twice throughout our three-day stay.  We also took the kids to the indoor playground one afternoon.  The shuttle service made things run smoothly for our large group with small children taking us anywhere we wanted on the  Wilderness property.  It was quick, accommodating, and most importantly, friendly.  With such a large group, we always had our own shuttle.  During one transport, they even lined up for our group to ride on the water shuttle to get to the infinity pool at Wilderness on the Lake.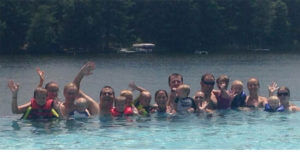 One of the best features of the many waterparks is that the crowds were spread out.  Since we were there in July, we anticipated the
pools to be busy; but with a variety of indoor and outdoor waterpark options, this was not a concern.  And, we were pleased that the resort's life jackets, were always available with so many young swimmers!
At the end of each night, the adults would sit around our cabin after the kids went to bed, bond and reminisce.  Before we left that
weekend, we were already talking about how we would be booking a trip back to Wilderness Resort in the summer of 2015.  For three days, we were encompassed with making memories, beautiful surroundings, and having a blast with our family.