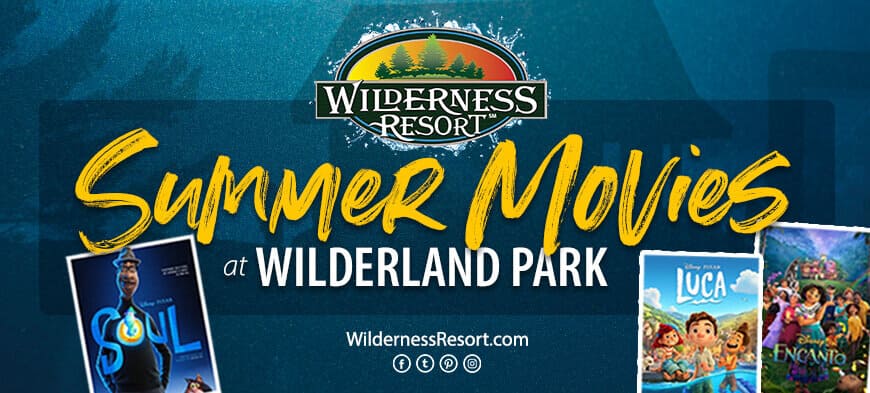 OUTDOOR WILDERLAND MOVIES ANNOUNCED FOR SUMMER
A lot of families look forward to our outdoor movies every Tuesday night in summer. Afterall, it's a great tradition, so we are excited to announce our 2022 line up! Make sure you pack a blanket and plan now to join the fun.
All movie nights are free for our guests and occur at dusk at our Wilderland park area by our Frontier Condos. However, families are welcome to come as early as 5 pm to claim your spot, play free games, make a free craft, get a free glow stick and listen to music with the WildKids team! Concession will also be available (cash only). This summer's line-up includes:
June 7, 14, 21 and 28 – Soul
Joe is a middle-school band teacher whose life hasn't quite gone the way he expected. His true passion is jazz — and he's good. But when he travels to another realm to help someone find their passion, he soon discovers what it means to have soul.
July 5, 12, 19 and 26 – Luca
Set in a beautiful seaside town on the Italian Riviera, this original animated feature is a coming-of-age story about one young boy experiencing an unforgettable summer filled with gelato, pasta and endless scooter rides. Luca shares these adventures with his newfound best friend, but all the fun is threatened by a deeply held secret: he is a sea monster from another world just below the water's surface.
August 2, 9 16, 23 and 30 – Encanto
The Madrigals are an extraordinary family who live hidden in the mountains of Colombia in a charmed place called the Encanto. The magic of the Encanto has blessed every child in the family with a unique gift — every child except Mirabel. However, she soon may be the Madrigals last hope when she discovers that the magic surrounding the Encanto is now in danger.
Please refer to the WildKids activity schedule available at all of the front desks when you check in as things may change depending on weather, etc.