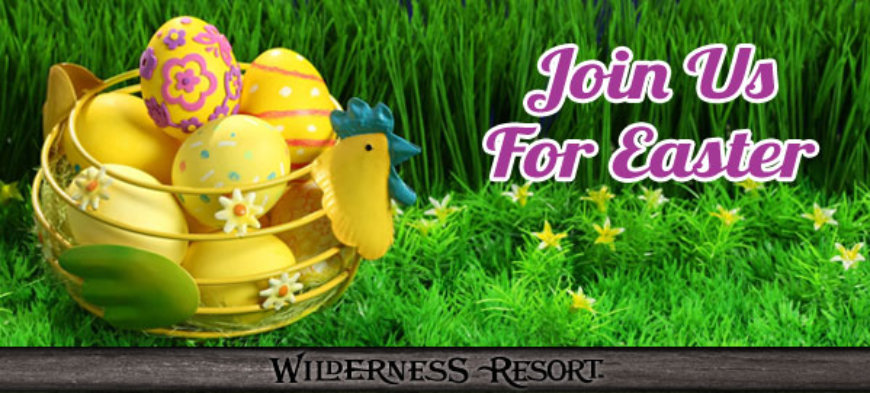 PLAN NOW TO CELEBRATE EASTER AT THE WILDERNESS!
Now that Fat Tuesday is behind us, let's set our sights past the snow on the ground and focus on the wonderful activities we have planned during Easter weekend!
April 19-21, is going to be a super fun weekend to visit Wilderness Resort with your family! The Easter Bunny will be making appearances each morning from 9-11 a.m. in our New Frontier lobby. Our WildKids' Club will also be hosting Easter crafts and games, including a bunny trail candy hunt, flying kites and dying eggs. Plus on Sunday, your family won't want to miss out on our gigantic egg hunt with over 5,000 Easter eggs filled with treats! To learn more about the times and locations for all of these guest-exclusive activities we have planned, please visit https://www.wildernessresort.com/easter.
In addition to participating in these fun activities, families will want to treat themselves to a spectacular Easter Brunch or Dinner Buffet in our Wild Canyon Café! The brunch will feature a made-to-order omelet bar, non-alcoholic Mimosa fountain, a sweet pickle ham carving station and many other delicious entrees and mouth-watering desserts. The dinner buffet will include prime rib and sweet pickle ham carving stations along with crab legs, maple pecan salmon, broasted chicken and many other wonderful entrees and plenty of tasty desserts. For the hours and pricing of each buffet, please visit https://www.wildernessresort.com/easter-buffet-wild-canyon-cafe.
No matter how you celebrate it, we hope your family has a memorable Easter!