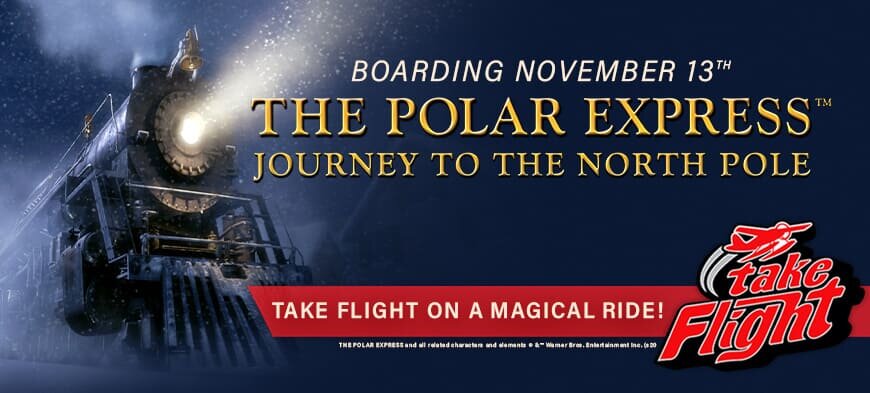 THE POLAR EXPRESS™ Journey to the North Pole Now playing at Take Flight Theater
This is no lump of coal in your stocking!  Just in time for the holiday season, we are excited to announce our NEW Take Flight Theater, with its enormous 65 foot by 45 foot screen, will be showing THE POLAR EXPRESS™ Journey to the North Pole.
The film, running November 13th, 2020 through January 18th, 2021, is a new state-of-the-art experience based on the movie classic about a doubting young boy who takes an extraordinary train ride to the North Pole. Climb aboard with him as he embarks on a journey of self-discovery that shows him that the wonder of Santa never fades for those who truly believe.
According to Chris Ebben, our resort's Director of Attractions, "The film will take you on an incredible holiday journey that will leave you on the edge of your seat as you twist and turn down the tracks on your way to visit Santa at the North Pole."
Adding to the holiday spirit, The Take Flight lobby and Wild Kids Club, located below the lobby, will be turned into a holiday wonderland with additional fun activities for kids to enjoy. Wild Kids' team members will be hosting various foam Christmas themed craft projects to get creative with. There will also be decorating Christmas cookies on Saturday, December 5, 12 and 19 from 1-2 pm. Plus, Santa will be onsite in the Camp Social Happy Camper Gift Shop from 9-11 am on December 5, 6, 12, 13, 19, 20 and 24. At Camp Social, holiday themed BINGO will occur daily at 4:30 pm.
Candy Cabin will have special holiday treats including special edition hand-dipped "Golden Ticket" Believe Chocolate Bars. Inside the wrapper of every Believe Chocolate Bar includes a prize. We are giving away over 1 MILLION arcade tickets redeemable at any of our Mega Arcades. Some lucky winners may receive a $100 arcade gift card, and one GRAND PRIZE (1:5000) winner will receive a $250 Wilderness Gift Card. Each Chocolate Bar is a winner!
At Camp Social's Burger Bar they will also be serving up Hot Chocolate Bombs and Polar Express-o's made with a shot of locally roasted expresso with Godiva white chocolate and peppermint blended in vanilla ice cream served with whipped cream, candy cane and snowflake sprinkles. An adult version of the drink can be made with Smirnoff Peppermint Twist and a Light Crème de Cacao. And, Klondike Pizza Kitchen will be hosting an "All Aboard for THE POLAR EXPRESS™ Pizza Package" that includes a large Santa hat shaped pizza, an order of breadsticks, a 2 liter bottle of soda and a Polar Express dessert pizza topped with mini marshmallows, graham cracker pieces, chocolate chunks and crush candy canes.
The Wilderness is also updating its Flying Wild film with new stunning aerial footage that is sure to leave you in awe. This cinematic ride takes participants "soaring" over famous national landmarks and America's breathtaking national parks. You'll feel the wind in your hair as you take in some of the stunning natural beauty and most iconic locations the nation has to offer.
The Take Flight Theater has 60 motion based seats* over three stories. Once participants are buckled into their seats, the doors to the theater swiftly rise and the seats surge forward, leaving guests' feet dangling as they stare at an enormous domed movie screen. Artificial scents, wind and mist add to the sensation of flying. *Please note, seating may be limited due to social distancing requirements as a result of COVID-19 precautions.
Take Flight Theater is open daily at 9 am. Tickets will cost $19.99 for adults and $15.99 for kids 12 and under for a single showing of either film.
Wilderness guests will receive a $5 discount on admission tickets. Military members and veterans can fly for $13.99 for a single showing of either film.
Participants must be 42″ to ride. Children need to be accompanied by an adult or guardian to ride. The maximum weight allowance is 300 lbs.
For more information or questions regarding Take Flight please email [email protected] or visit TakeFlightWilderness.com to purchase tickets. Take Flight Theater is located off of the New Frontier lobby.
THE POLAR EXPRESS and all related characters and elements © & ™ Warner Bros. Entertainment Inc. (s20) Based on THE POLAR EXPRESS book and characters © & ™ 1985 by Chris Van Allsburg. Used by permission of Houghton Mifflin Company. All rights reserved.