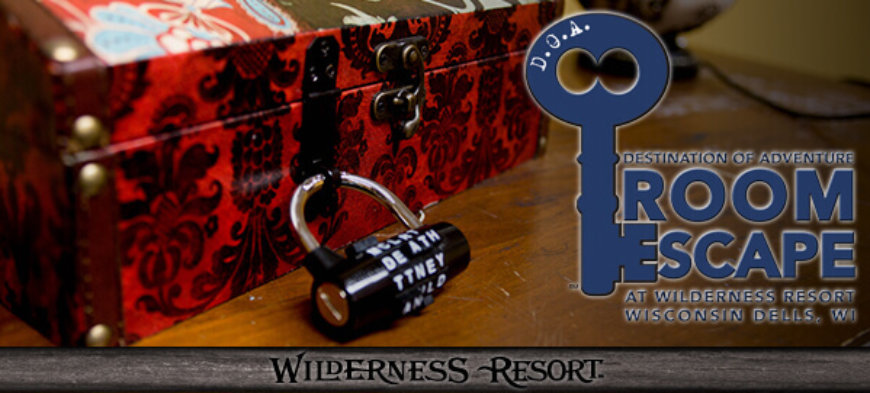 ROOM ESCAPE AT THE WILDNERESS…SO I'M NO LEONARD
From our Guest Blogger: Joel Paschen, Social Media Director at Visit Wisconsin Dells
Call me a geek, but ever since I saw Leonard, Amy and Raj try a Room Escape on the Big Bang Theory, I've wanted to check one out sometime. When I was recently invited to experience and write about one of the TWO new Room Escapes at Wilderness Resort I was psyched!
If you have not heard of a Room Escape, let me explain. It is a themed room that you are locked into with all kinds of clues and puzzles. The motivation is to work together with your group to find your way out…in 60 minutes or less.
Created by D.O.A., who also has Room Escapes in Chicago, both Rooms at the Wilderness on the Lake are set back in 1893 during the World's Fair in Chicago. They revolve around the story of H.H. Holmes, one of the nation's first documented serial killers who built a hotel designed for murder. The hotel featured hidden, sound-proofed rooms, trapdoors, incinerators and as you might have guessed, guests of the hotel were often never heard from again.
After the introduction and video instructions, our group was ready to enter. My adrenaline was flowing pretty good as we were locked into the room and told we had 60 minutes to escape the grisly basement of the World's Fair Hotel "alive."
The clock started ticking and we all began to search around the room, knowing everything in the room could possibly be a clue. As we tried to figure out what we were doing and how things were solved, things started to click in my head. (Or maybe that was the tumblers on the padlocks. I'm not sure.)
Sadly, our group did not survive the experience in time. Despite this, I really enjoyed the Room Escape! It was a fun experience. Not only did I learn about historical events, but I also learned more about the people in my group, and was introduced to ways to think outside the box. I think I will be better at my next Room Escape attempt.
After we were released in defeat, the moderator did a brief synopsis of who in the group did what, and what their strengths were. Turns out, if you are doing this for a team-building exercise, you can ask them to give feedback about how the group worked together. It was cool to hear their view of how our team did. They said they will work with groups looking to highlight specific roles or strengths. You just need to let them know ahead of time.
All in all, I would definitely recommend D.O.A. Room Escapes the next time you are in Wisconsin Dells! Probably not as much fun for kids since the clues are tough, and the content and theme are PGish.
Wilderness Response:
Thank you Joel for adding your quick-thinking, problem-solving personality to our Room Escape team and for agreeing to write about it! (But to not ACTUALLY write about it because that would spoil the surprises!)
If you would like to book a Room Escape experience, visit http://www.doaroomescape.com/tickets-dells and "pick your poison" as they say!