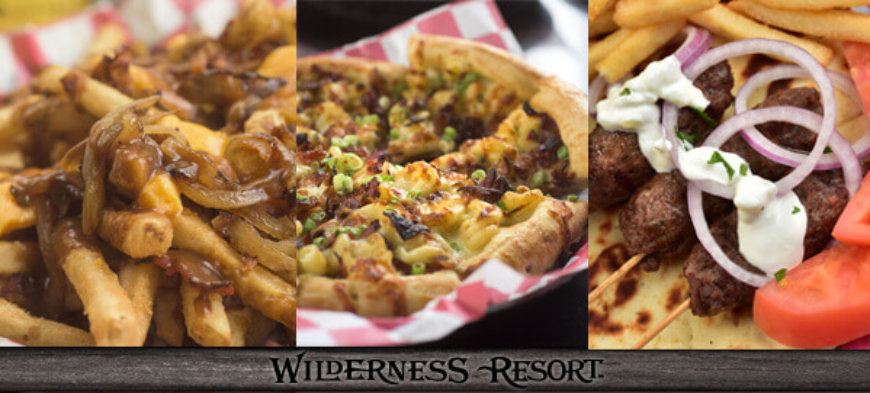 SURVIVORS UPDATES MENU WITH SOME DELICIOUS OPTIONS
Our creative chefs at Survivor's Bar and Grill have outdone themselves with some spectacular new appetizers, salads, sandwiches, wraps and pizzas. Next time you're at our resort, we'd like to recommend that you stop by to try some of this amazing goodness.
New Appetizers
Poutine:  Indulge in sea salt and cracked pepper fries, piled high with fresh Wisconsin cheese curds, amber ale caramelized onions, brown gravy, and topped with tasty Applewood smoked bacon.
Deep Fried Ravioli:  Enjoy delicious ravioli stuffed with fresh mozzarella and fried golden brown. Served with a marinara sauce for dipping.
Veggie Plate:  Looking for healthy option? Crunch into some fresh carrots, crisp celery, cucumber slices and red bell peppers. Served with a creamy ranch dressing for dipping.
New Salads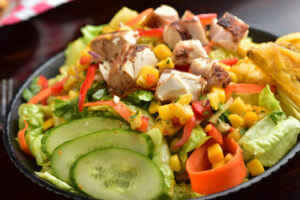 Beachcomber Mahi Mahi Salad:  This delicious Romaine tossed salad features a Seared Mahi Mahi fillet served with tropical salsa, cucumbers, bell peppers and mango-lime vinaigrette. Plus, it's garnished with yummy fried plantains.
Yucatan Salad:  This salad features fresh Romaine lettuce tossed with a Poblano Ranch dressing, tomato, pickled red onion, cilantro, avocado and shredded Cheddar Jack cheese. It's topped with pulled, smoked chicken and pepitas.
Sweet & Salty Spinach Salad:  For this salad, fresh spinach is topped with tangy apples, Bleu cheese, Applewood smoked bacon, Craisins and candied pecans. Then it's tossed with sweet blush wine vinaigrette and topped with a crispy pretzel-crusted chicken breast.
New Sandwiches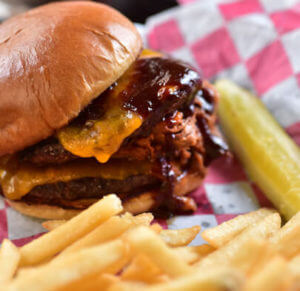 Big Monty:  This sandwich offers a mouthful of flavors by placing BBQ pulled pork between two grilled burgers and topping off the burgers with Colby Jack cheese and Kansas City BBQ sauce. It is served on toasted brioche roll.
Calypso:  A tropical party for your mouth, this sandwich features a perfectly grilled beef patty topped with caramelized pineapple-mango Pico de Gallo, white Cheddar cheese, tropical habanero sauce, shredded lettuce, onion and vine-ripened tomato. It is served on a toasted brioche roll.
Mushroom Swiss:  A grilled beef patty topped with sauteed mushrooms, Swiss cheese, onion tanglers and garlic-peppercorn mayo. It is served on a toasted brioche roll.
Grilled Mac & Cheese & BBQ Pork:  This out-of-this-world sandwich features white macaroni & cheese, BBQ pulled pork, white Cheddar cheese and onion tanglers sandwiched between two slices of grilled white bread.  Can you say yum?
Grilled Mediterranean Veggie:  Hearty and healthy, seasoned eggplant, bell peppers and zucchini, topped with roasted red pepper pesto, Feta cheese and shredded spinach on roasted garlic naan bread.
Prime Rib Sandwich:  Dig into 8 ounces of juicy prime rib topped with amber ale onions and Bleu cheese, served with au jus. It is served on a Dutch crust roll.
Kefta:  Skewered chopped lamb and beef grilled to perfection and served on roasted garlic naan bread with tomatoes, red onion and delicious creamy tzatziki sauce.
New Wraps
Havana Wrap Sliced Cuban:  Tasty seasoned pork loin, black beans and rice, Swiss cheese and tropical salsa rolled in a black bean tortilla.
New Pizzas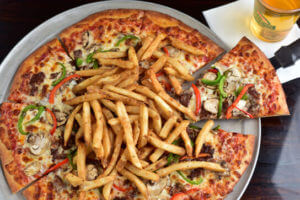 Macaroni & Cheese Pizza:  White macaroni & cheese, Applewood smoked bacon, Mozzarella cheese and green onions.
Philly Cheese Steak Pizza:  Chopped sirloin, bell peppers, onions, mushrooms, Mozzarella and Provolone cheese, topped with sea salt and cracked pepper French fries.